Overview
The CCCU maintains a unified collection of data to provide an overview of our institutions. This data will continue to grow in scope and distinction with the yearly addition of data and reports from the Collaborative Assessment Project (CAP). 

Additional research is housed by the CCCU's U.K. subsidiary Scholarship & Christianity in Oxford (SCIO) and available here.
Research and Reports on CCCU Institutions & Christian Higher Education
2021: State of STEM at CCCU Institutions: Brief Summary
2021: State of STEM at CCCU Institutions: Full Report
2021: Campus Diversity Statistics
2021: Campus Responses to COVID-19
2021: Economic Impact of Private, Nonprofit Higher Education (NAICU)
2020: The Case for Christian Higher Education
2019: Alumni Survey
2018: Economic Impact of Christian Higher Education 
2018: The Case for Christian Higher Education
2018: Student Satisfaction
2017: Student Engagement
2016: Student Satisfaction
2016: Faculty Salary Trends
Annual Research Surveys
Christian Higher Education Research Council
As Christian colleges and universities seek to meet the challenges of a changing cultural and political landscape, it is crucial that they are guided by sound research. Individually, many of the institutions of the Council for Christian Colleges & Universities perform regular and reliable internal research. As a collaborative association, however, Christian colleges and universities are missing an opportunity to benefit collectively from a coordinated and integrated approach to research. Moreover, CCCU institutions and the Council's leadership in Washington, D.C. need more complete and empirical data with which to construct a compelling narrative about the benefits and value of Christian education. The Christian Higher Education Research Council is being established to meet those needs.
The Christian Higher Education Research Council will guide the CCCU and its institutions in conducting, interpreting, and disseminating research that fosters institutional improvement and supports an accurate and compelling narrative regarding Christian higher education in the U.S.  Specifically, the Council will:
Guide our institutions in the coordination, collection, and use of benchmarking data that will empower them in data-driven decision-making and improvement through our Collaborative Assessment Project (CAP).
Serve as a steering committee connecting researchers on Christian higher education to topics of strategic interest to our members.
Assist the CCCU in the interpretation and dissemination of data for both internal audiences (for institutional improvement) and external constituencies (to build a compelling narrative regarding the public narrative of Christian higher education).
The Council will consist of 6-8 members from key positions at CCCU institutions, all of whom have significant experience and expertise in Christian higher education research.  Proposed members include:
Laurie Schreiner, Chair of the Higher Education Department, Azusa Pacific University (Council chair)
Burt Burleson, Dean of Spiritual Life, Baylor University
Tom Dahlstrom, Director of Institutional Research, Eastern University
Jessica Daniels, Associate Professor, Doctor of Leadership in Higher Education, Bethel University
Kris Hansen-Kieffer, Vice Provost and Dean of Students, Messiah College
Scott Moats, Vice President for Academic Affairs and Provost, Crown College
Aida Ramos, Assistant Professor of Sociology/Student Success Coordinator, George Fox University
Todd Ream, Professor of Higher Education, Taylor University
Stan Rosenberg, Vice President for Research and Scholarship, CCCU
Nita Stemmler, Program and Research Consultant, CCCU (CCCU liaison)
The Collaborative Assessment Project (CAP) orients CCCU members around a common set of campus assessments that help us provide empirical evidence that Christian higher education is indeed a significant and valuable enterprise.
This year the CAP initiative is focusing on The Thriving Campus – a comprehensive, multi-faceted approach for identifying the elements of your campus that can enable more of your students to engage in the college experience academically, interpersonally, and psychologically. The initiative will be year-long, assessing not only undergrad and grad students (Fall 2022), but also faculty and staff (Spring 2023). It will continue to be coordinated by Dr. Laurie Schreiner's team at Azusa Pacific University. The CCCU will sponsor the initiative, but all processes and payments will be managed through the Thriving in College web portal.
For more detailed information, visit the CCCU's Collaborative Assessment Project page on the Thriving in College website.
Journal Access
Christian Higher Education is a peer-reviewed archival journal that features articles on developments being created and tested by those engaged in the study and practice of Christian higher education. Journal access is provided to CCCU institutions as a member benefit (free of charge). To access, please log in using your MyCCCU account.
Journal Login Article Submissions Dissertation List
Christian Scholar's Review is a medium for communication among Christians called to the academic vocation. Its objective is the publication of peer-reviewed scholarship and research, within and across the disciplines, that advances the integration of faith and learning.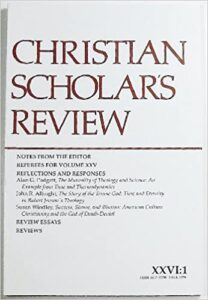 Research on STEM and Diversity Across the CCCU
Staff of Scholarship & Christianity in Oxford, the CCCU's UK subsidiary, and affiliated researchers have been conducting research on the status of STEM programs, STEM student enrolment, and gender and racial diversity in STEM among both students and faculty members at CCCU member institutions. They have also been investigating the challenges facing underrepresented faculty members in STEM.
STEM Research
The CCCU and Scholarship & Christianity in Oxford (SCIO), the CCCU's UK subsidiary, have received a $2.1 million grant from the John Templeton Foundation, with a further $256,000 grant from the M.J. Murdock Charitable Trust, to launch Supporting Structures: Innovative Collaborations to Enhance STEM Research at CCCU Member Institutions, a project designed to support and enhance STEM research among faculty and students on CCCU campuses.
This multi-faceted project will incorporate training, support, and events for faculty members, students, senior administrators, and the communities that feed into and support these institutions. It will expand research opportunities among existing, pre-tenure faculty members in the STEM fields and offer training to deepen their understanding of and engagement with issues pertaining to science, religion, and society. Additionally, the project has a specific fund dedicated to help participating campuses enhance diversity among their STEM faculty.
Economic Impact of Christian Higher Education
A 2018 study calculated the national economic impact of Christian higher education in the United States.
Networking Grants for Christian Scholars
Networking Grants for Christian Scholars were created to encourage collaborative scholarship among faculty serving at our institutions and to connect these faculty with broader networks of scholars and professionals. The program's goal is to create and disseminate high-quality scholarship that brings Christian voices into contemporary academic conversations.
Grants for Campuses
As a valuable member service, we offer a wide variety of grant opportunities for CCCU campuses and faculty members (and several that support students).
Academic Freedom and Christian Higher Education
Academic freedom is the right of the professor to a degree of freedom in teaching and research, subject to professional standards of competence, relevance, and respect. It is a foundational value of the academy. CCCU institutions share the academy's deep commitment to academic freedom, and this document serves as a guide for CCCU administrators and professors regarding the common understanding and practices surrounding academic freedom.