Collaborative Assessment Project (CAP)
Overview
The Collaborative Assessment Project (CAP) orients CCCU members around a common set of campus assessments that help us provide empirical evidence that Christian higher education is indeed a significant and valuable enterprise. CAP's common assessments provide sector norms for institutional benchmarking, while its cyclical nature empowers participating schools to examine their institutional effectiveness over time through longitudinal data analysis.
Involvement in CAP is a valuable opportunities for your institution to collect data from your students that can be helpful in improving student success, preparing for accreditation, and data-driven strategic planning.
CAP has a registration fee of $300. Review program details and benefits below.
CAP Registration
CAP Instruments for 2020-21:
Fall 2020 administration of the Thriving Quotient
Spring 2021 administration of the National Survey of Student Engagement (NSSE)
CAP Cost: $300
CAP Registration Deadlines*:
Thriving Quotient – October 12, 2020

NSSE –  October 23, 2020 (Note: administration is in the spring 2021)
*Please note that you will still need to register with NSSE directly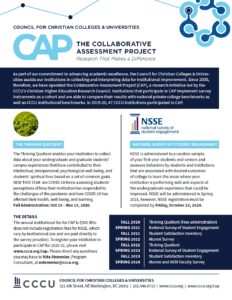 Programs Details and Benefits
The Collaborative Assessment Project (CAP) has been an ongoing project of the CCCU since 2000. This newly designed version of the project was developed as a result of consultation and needs assessment with our members and key peer group personnel.
The annual institutional membership fee for CAP is $300
Note: This does not include registration fees for NSSE, which vary by institutional size and are paid directly to the survey provider.
To register your institution to participate in the Collaborative Assessment Project for 2020-21, please go to the CAP Registration Form.
Please direct any questions you may have to Nita Stemmler at nstemmler@cccu.org.
Benefits
• A regular assessment cycle CCCU members can count on
• Benchmarking to national norms and other private institutions, as well as CCCU members and affiliates
• Disaggregated comparative data by race/ethnicity, gender, SES, and generation status
• Newsletters, web updates, and email blasts about how to use your results
Additional services available upon request:
• Phone consultation about your results
• Predictive analytics by target groups (additional fee)
• Retention audits at a reduced price
• On-campus consultations at a reduced price
Focus for 2020-21
Thriving Quotient
You can learn more about the Thriving Quotient here: https://www.thrivingincollege.org/

The Thriving Quotient is an instrument that assesses students' levels of interpersonal, intellectual, and psychological engagement and well-being, along with their spirituality, sense of community, perceptions of the institution, and satisfaction with learning, faculty, advising, and other aspects of their experiences.
NEW THIS YEAR are COVID-19 items assessing students' perceptions of how their institution has responded to the challenges of the pandemic, as well as information about how COVID-19 has affected their health, well-being, and learning.
Participating institutions will receive their raw data in SPSS or Excel, along with a report comparing their students' responses to other CCCU institutions. There is no additional cost beyond the CAP fee of $300.
Additional Information:  Because of the importance of assessing the differential impact of COVID-19 on students of color, institutions will have an option of a separate report that disaggregates their data by race/ethnicity and determines whether there are significant differences in students' responses. This option is an additional $100 and is contingent upon having at least 30 responses in any racial group.  (Fee paid directly to the Thriving Quotient)

Timeline:

Registration: October 12, 2020
Fall Administration: October 19 – November 13, 2020
Registration Process:
Register for CAP
We will contact the Thriving Quotient team
They will contact you directly to set up your personalized survey
 Once you're contacted by the Thriving Quotient team, you can request the separate report that disaggregates Covid-19 data by race/ethnicity to determine whether there are significant differences in students' responses.  At that time, you will be invoiced for the $100 fee.
NSSE
NSSE is administered to a random sample of your first-year students and seniors and assesses behaviors by students and institutions that are associated with desired outcomes of college to learn the areas where your institution is performing well and aspects of the undergraduate experience that could be improved. NSSE will be administered in Spring 2021, however, NSSE registration must be completed by Friday, October 23, 2020.
Timeline:
Register with CAP: Friday, October 23, 2020
Register with NSSE: Friday, October 23, 2020
Click here to go to NSSE website.
Spring Administration: February, 2021

Webinars
Upcoming webinars will be announced soon.