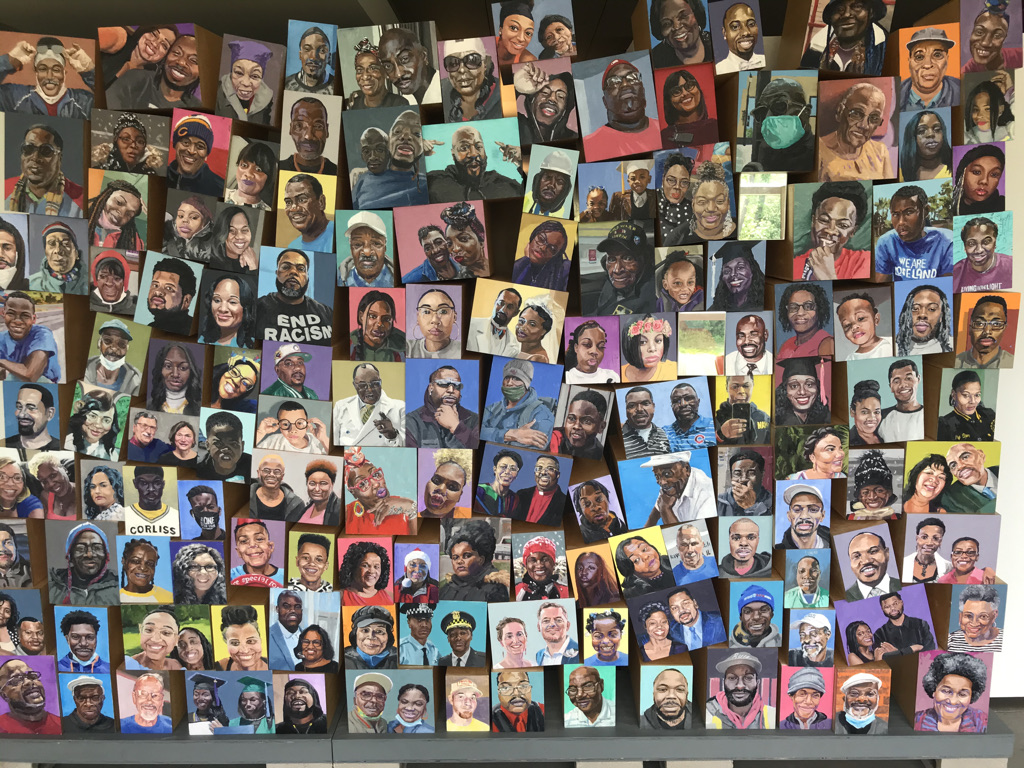 Six CCCU Institutions Awarded Inclusion Immigration Grants
Pictured: Trinity Christian College's Movable Community Mural*
Six CCCU member institutions each received a grant of $10,000 as a part of the second cohort of the Inclusion Immigration Collaborative. This grant exists to support the development and scaling of projects to engage students with other groups in order to build more inclusive and welcoming communities across the United States, specifically engaging with immigrant communities. Abilene Christian University, Fuller Theological Seminary, Gordon College, Lee University, Toccoa Falls College, and Westmont College were selected out of a pool of worthy applicants to enact context-specific initiatives which are listed below.
In June 2020, the Council for Christian Colleges & Universities (CCCU) was awarded a grant through the National Inclusion Campaign entitled Belonging Begins with US, a project of the American Immigration Council that supports inspiring the public to engage in bridge-building towards those on the margins to produce more inclusive environments. Six CCCU member institutions were identified to be a part of the year one cohort that promoted programs that are documented in the Welcoming Toolkit here.  This initiative was a success and the second cohort is able to move forward with the mission of innovating inclusion.
"As Christians, our role in the American project should be one of hospitality. Bridge-building, practicing proximity in plurality, and living out of the parable of the Good Samaritan are key components of the CCCU and these schools are living that out. I look forward to hearing the stories to come from these projects," comments CCCU president Shirley Hoogstra.
Don Gegraaf, Senior Director of Educational Programs at the CCCU, comments that,
"One of the best methods of inviting others to join us in this "belonging" journey is to encourage social contact with those who we may see as different. The many different programs and strategies that will foster contact between students and new Americans we hope will nudge students toward deeper learning and engagement within our communities, but we also hope our story does not stop here. We must look to broaden our impact in ever-widening ripples to include alumni, student families, faculty, staff, our congregations, and other members of our communities."
Below are the six grant summaries for the selected projects that will make up the 2021/2022 Cohort of the Inclusion Innovation Collaborative.
Abilene Christian University (Abilene, Texas)
Building Cross-Cultural Connection in Interprofessional Education
This project will develop a one-hour Interprofessional Education (IPE) course designed to explore best practices for interprofessional teams working with diverse populations. Their aim is to promote diversity, equity and belonging by increasing understanding and skills in building relationships with community members among healthcare and education students. This project's aim is to think creatively across disciplines through the development of an interprofessional education initiative to build capacity for Abilene students who work in the education and healthcare fields to connect with those new to the United States who often struggle with equal access in these sectors.
Fuller Theological Seminary (Pasadena, California)
Creating More Welcoming Churches
This initiative aims to increase the quality of community engagement programming at Fuller Seminary.  There is a desire to increase the number of students involved in bridge-building between Fuller Seminary and immigration-focused churches and community organizations. This grant will fund building a model for community engagement that is embedded in and integrated with academic programming that can be replicated in other programs within the Seminary as well as at other CCCU institutions.
Gordon College (Wenham, Massachusetts)
The Good Neighbor Experience
The purpose of The Good Neighbor Experience is to bring together student leaders at Gordon College to embark on a transformative learning experience that activates their skills as bridge-builders on campus and with neighboring communities. It will invite community members to become community ambassadors alongside students who have been impacted by immigration. Students will spend time exploring potential negative stereotypes based on insufficient knowledge of new Americans, a societal group typically very different from any they have previously known. Cohort members will take part in listening activities with organizations already doing work that supports immigrants and refugees, develop relationships through shared activities with young people being served by one of Gordon's community partners, and work with those young people to execute a substantive experience for their peers. All of this will be done alongside documenting reflections and shifts in their own worldviews.
Lee University (Cleveland, Tennessee)
Project Mosaic
Project Mosaic will address the barriers to the limited social contact of Lee University students with migrants and refugee communities in our region and beyond. The project will provide spaces and opportunities for students' involvement in 1) fostering relationships and 2) seeking sustainable and collaborative partnerships with migrant and refugee communities to develop a climate of inclusion and belonging in their region. Propelled by the commitment to the University's core values of redemptive service, global citizenship, and ethical action, Project Mosaic seeks to improve community partnerships through intercultural and interfaith dialogues, collaboration, and cooperation in addressing pertinent issues confronting individuals and groups in the margin. This two-pronged program strategy will focus on the various points of student encounters with immigrants and refugees that will promote inclusion, access, and a sense of belonging through intentional deliberation and action to incorporate everyone to full participation in our community. This initiative originated from the institution's collective biblical commitment to address the challenges of social injustices while promoting the values of hospitality, benevolence, advocacy, and missional communities
Toccoa Falls College (Toccoa Falls, Gerogia)
Project Tapestry: Weaving Our Stories
Summary: Toccoa Falls College (TFC) is connected to immigrant communities in Lavonia, Clarkston, and Atlanta, GA by way of proximity and through consistent placement of student volunteers within immigrant communities. In summer months, TFC students complete internships and service activities in multiple of such communities. This grant will go towards the study, documentation, and evaluation of the replicability of TFC's Service and Outreach activities in immigrant communities  TFC's student volunteers are prepared and positioned for positive contact by experienced advisors, and their activities are reviewed, discussed, and evaluated to reveal that contact with immigrant communities regularly triggers significant, long-lasting, perspectival change in students that have led to long term work in immigrant communities.
Westmont College (Santa Barbara, California)
Neighbors at the Table:  Food as Memory and Mutuality
Working through Santa Barbara Alliance for Community Transformation (SB ACT) and Immigrant Hope, Westmont students will be partnered with peers and families to listen, capture, and re-tell stories of culture and transition through a social media campaign. Videos and resources will focus on the power of narratives to humanize the experience of immigrants in our local community. The program will also formalize a newly developing partnership for Westmont Urban Initiative students to volunteer for peer mentoring and tutoring for participants of Immigrant Hope's ongoing education classes.
*Pictured: Trinity Christian College's Movable Community Mural, one of the grant recipients for Cohort One of the Inclusion Innovation Collaborative. Faculty and students at Trinity Christian College in Palos Heights, Illinois developed the idea to help bring the story and diversity of the Roseland neighborhood to life. The finished mural reflects the diversity of the Roseland community, telling the story of a cross-section of residents (including newly arrived as well as established immigrants). The mural is made up of over forty individual boxes, each containing a portrait painting of a community member as well as a narrative (on a side panel) sharing life stories. The art installation will be present at the 2022 International Forum.