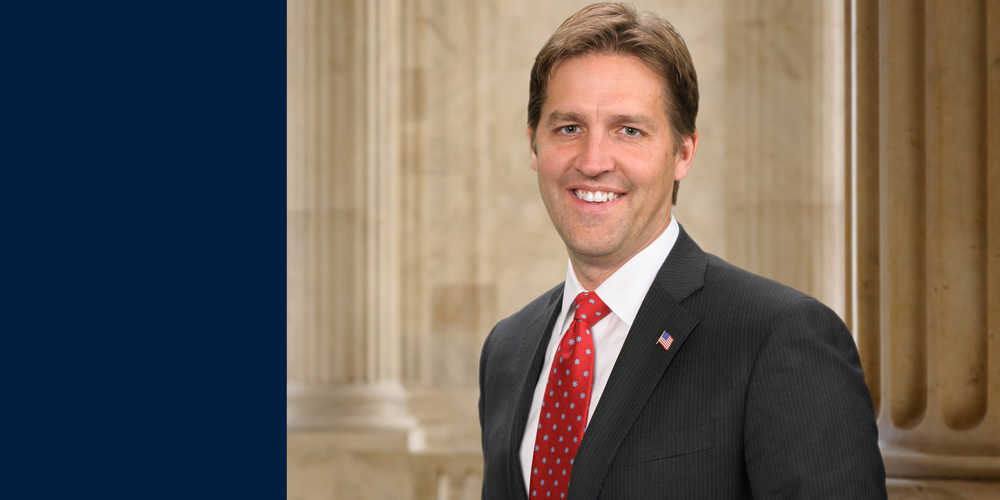 Senator Ben Sasse to Receive Hatfield Leadership Award
The Council for Christian Colleges & Universities (CCCU) is pleased to announce that Ben Sasse, U.S. Senator for Nebraska, has been named the recipient of the 2020 Mark O. Hatfield Leadership Award. Senator Sasse will be accepting the award and delivering the keynote address the evening of Wednesday, January 29, 2020 as part of the CCCU's annual Presidents Conference in Washington, D.C.
The CCCU's Hatfield Leadership Award is presented to individuals who have demonstrated uncommon leadership that reflects the values of Christian higher education. The award was originally established in 1997 in honor of Senator Mark Hatfield, and previous recipients include Barry C. Black, Tim Walberg, N.T. Wright, John M. Perkins, Rick and Kay Warren, Ben Carson, Charles (Chuck) Colson, Billy Graham, and Arthur Holmes.
"Senator Sasse represents a true liberal arts graduate—after graduating from Harvard he earned a Ph.D. in American history at Yale. He refers to himself an 'occasional professor' and served as an academic historian and university president before being elected to the Senate," says CCCU President Shirley V. Hoogstra. "His life story, including his journey through academia, service to our country in the public square, and national influence as a writer and thought leader, serves as a representation of our goal as educators in Christian higher education—to produce committed, compassionate, convicted citizens who want to engage deeply in this world, not in spite of their faith, but because of their faith."
Senator Sasse is a fifth-generation Nebraskan with the honor of representing the Cornhusker state in the U.S. Senate, where he is a member of the intelligence, judiciary, and banking committees. Before being elected, Sasse spent five years as president of Midland University. The 130-year-old Lutheran college in Sasse's hometown was on the verge of bankruptcy when he arrived, but became one of the nation's fastest-growing schools just three years later. He holds degrees from Harvard University and Yale University.
Senator Sasse is the author of two books—The Vanishing American Adult, about the evaporating distinction between adolescence and perpetual adolescence in economies with limited work for teenagers, and Them: Why We Hate Each Other – and How to Heal, about the paradox of loneliness and collapsing local community precisely as the digital revolution makes middle-class Americans the richest people in human history. Both books quickly became national best-sellers.
"It is a tremendous honor to receive the Mark O. Hatfield Leadership Award," shares Senator Sasse. "Given the fact that the Council for Christian Colleges & Universities has given this distinction to some truly great leaders like Billy Graham and Chuck Colson, my wife Melissa gently reminded me that 'even good institutions make mistakes.' This year's award aside, the CCCU sets the bar high—pursuing academic excellence through Christ-centered higher education and ardently defending religious liberty in the public square. These men and women are doing tremendous work, and Melissa and I are grateful for their service and for their friendship."
All media inquiries regarding the 2020 Presidents Conference should be directed to media@cccu.org.