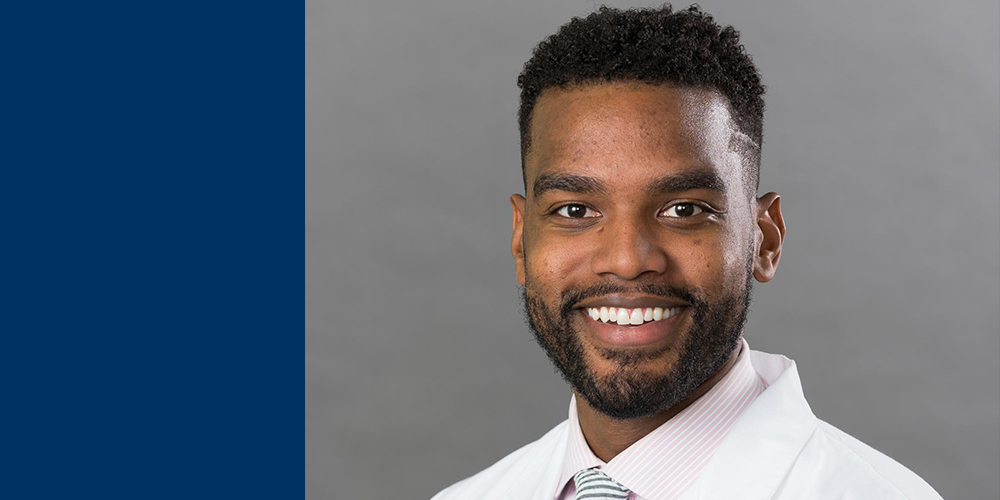 Emmanuel McNeely Named CCCU Young Alumni Award Winner
WASHINGTON — The Council for Christian Colleges & Universities is pleased to announce that Emmanuel McNeely, a 2012 graduate of Palm Beach Atlantic University and a co-founder of the Dr. M.D. Project, has been named the 2021 CCCU Young Alumni Award winner. The award will be presented as part of the 2021 CCCU Presidents Conference, March 17-19, 2021.
McNeely is currently pursuing his doctorate in medicine at Florida Atlantic University's Charles E. Schmidt College of Medicine, where he will complete his degree in 2023. He took time away from his courses to conduct a second year of spine surgery research at Johns Hopkins University, and he plans to do an orthopedic surgery residency after his graduation. He and his wife, Sa'Rah McNeely, launched the Dr. M.D. Project to increase the number of underrepresented minorities who successfully pursue degrees in medicine.
"Unfortunately in the Black community, if you want to be a surgeon, there's not typically someone there who can lead you. You're really counter-cultural," shares McNeely. "As a black male medical student, I understand the scarcity of black males going into medicine, and I understand that there is a very leaky pipeline into medicine. I am working towards increasing the number of black males entering medical school, and I look forward to a future where more minorities exist in the medical field so that we can better address health disparities across all fields of medicine."
"It is extremely humbling to receive this prestigious, national award as a testament to how faith in the Lord births success in other spheres of influence," McNeely continues. "Palm Beach Atlantic University (PBA) was the training grounds for my spiritual, academic, and professional development. Whether it was prayer in the classroom, cancer research in the lab, or worship in the chapel, PBA education showed me how to use my life to honor God in all settings. I pray this award encourages others to use their bold faith in Jesus to bring God glory in secular environments!"
The Dr. M.D. Project launched when McNeely was still a student at Palm Beach Atlantic, and it offers both workshops and a workbook that the McNeelys co-authored that provides study tips, mentoring advice, and strategies to set goals alongside their own inspiring stories of overcoming challenges in their medical pursuits. Despite the demands of research and studying for his degree, McNeely is committed to mentoring others who are pursuing medicine themselves.
"Through both his medical studies and his deep commitment to mentoring the next generation even as he continues in his pursuit to become an outstanding physician, Emmanuel McNeely embodies the whole-person love and care that Jesus himself models for us in scripture," says CCCU President Shirley V. Hoogstra. "The global pandemic has highlighted just how important it is for us to have medical professionals like Emmanuel who are committed both to serving and training up the next generation of leaders within underrepresented communities. Emmanuel embodies the ultimate goal of Christian higher education: to help students integrate fully their faithful commitment to Jesus into their profession and to make a difference in the world."
Palm Beach Atlantic University President Dr. Debra A. Schwinn, herself a physician, praised McNeely for his willingness to serve others even during such a busy time of his life. "I know what the demands of medical school are like," she said. "Emmanuel's ongoing mentoring and his encouraging disadvantaged young people shows the heart he has for people. That heart, combined with his excellent training, will make him a fine physician. We who serve at Christian schools are so proud of graduates like Emmanuel, who shine with God's love and with excellence in their field of study."
The CCCU Young Alumni Award is presented to individuals who have graduated within the last 10 years from a CCCU institution and have exhibited uncommon leadership or achieved notable success in a way that reflects Christian higher education. Previous recipients include Graham Smith (Wheaton College), co-founder of the Times Square Restaurant P.S. Kitchen, Dr. Jacob Atem (Spring Arbor University), a former "Lost Boy" of Sudan and co-founder of the Southern Sudan Healthcare Organization, and Angie Thomas (Belhaven University), author of the New York Times bestseller The Hate U Give.
In addition to naming McNeely as the winner, Gabby Cannone, a graduate of Lipscomb University, was recognized as a runner-up for her work in organizing Cyntoia Brown's clemency petition and serving on her legal team while she was a student at Lipscomb.
Additionally, Grace Umutesi, a graduate of Oklahoma Christian University, was also recognized as a runner-up for her work leading the COVID-19 response activities in Rwanda on behalf of Partners in Health. Her work has developed protocols for quarantine and isolation as well as protocols for professions like public transportation and custodial services.
All media inquiries regarding the CCCU Young Alumni Award should be directed to media@cccu.org.