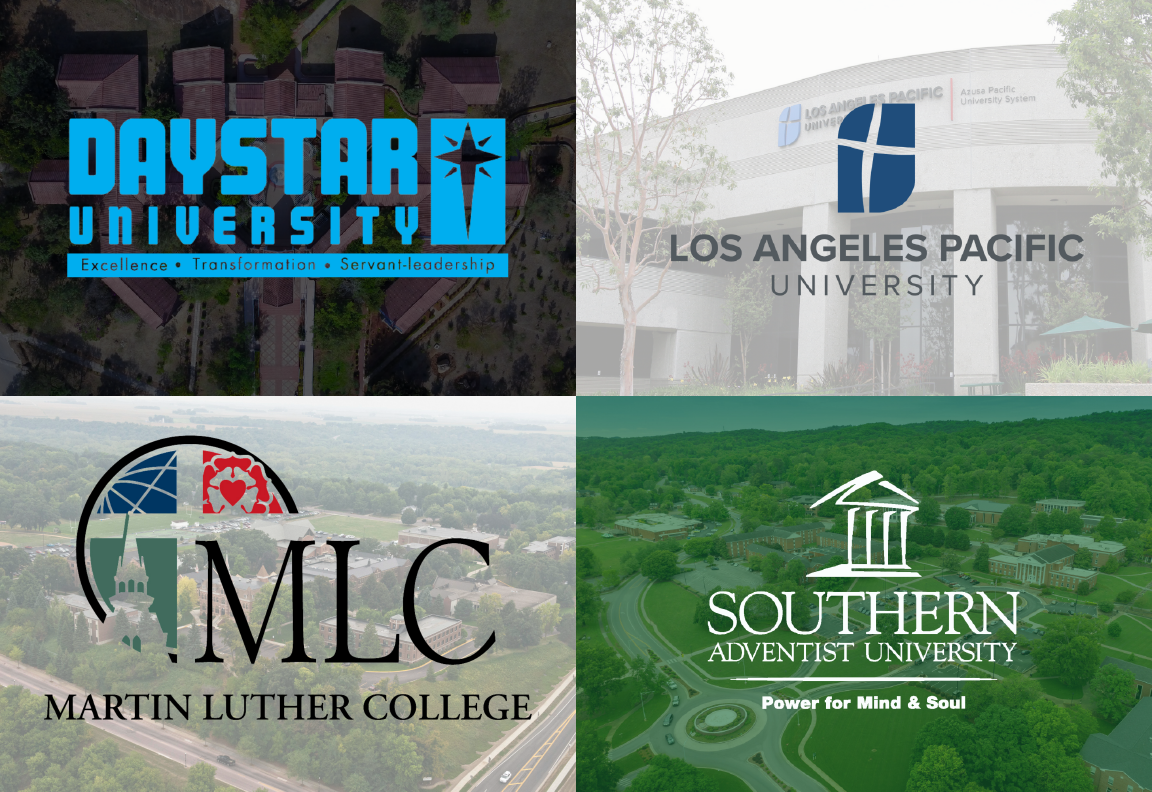 CCCU Welcomes Four New Institutions
WASHINGTON — The Council for Christian Colleges & Universities (CCCU) is pleased to welcome four new members to its expansive network of Christian colleges and universities across the globe.  
 "Our joining CCCU is literally a gift from God. We hope to become part of the Christian university community and create a synergy that will be mutual to all of us," says Laban P. Ayiro, vice-chancellor of Daystar University. "In addition, Daystar hopes to get the needed validation and approval within the Christian support networks. Daystar will stand to benefit from research expertise through member institutions and in turn contribute to knowledge creation and practice from an African perspective. Ours being the oldest chartered Christian university in Kenya demands of us to maintain a Christ-centered identity for the expansion of God's Kingdom. We intend to bring forth graduates who are God-fearing, servant leaders, and transformational agents, aspects that will be enhanced by being part of the CCCU family." 
"We are so honored and excited to be accepted as a new member of the CCCU," says John Reynolds, president of Los Angeles Pacific University. "As one of the youngest Christian universities in the nation, we remain committed to honoring God in our actions, attitudes, and aspirations while serving with grace the needs of our colleagues and students, with the core belief that collaboration and networking are critical for the future of missional higher education. We look forward to partnering with the CCCU and its collaborative like-minded, yet uniquely positioned, member institutions for strength in voicing a shared hope-filled future that advances the cause of Christ through Christian higher education." 
"As a college, working alone, it would be tough for us to have our voice heard by our representatives in government when it comes to legislation and regulation that will impact the work of our school either positively or negatively. That is just one of the great blessings of being part of CCCU," says Richard Gurgel, president of Martin Luther College. "Suddenly our voice isn't alone, and through the work of the CCCU leadership, the voice of our college and the voice of many other colleges and universities like ours can be heard much more consistently and regularly by our elected and appointed governmental leaders." 
"Southern Adventist University is delighted to now be a member of the CCCU," says Ken Shaw, president of Southern Adventist University. "Our mission is congruent with that of the CCCU and we are delighted to be a part of an organization that seeks to advance the value and voice of Christian higher education through public advocacy, professional development and scholarship, and experiential education." 
The CCCU Board of Directors approved the new members at its February 2022 meeting. Together, these institutions join more than 185 Christian institutions around the globe, including more than 150 in the U.S. and Canada and more than 30 from an additional 20 countries, that make up the CCCU.
For a full list of CCCU institutions, visit cccu.org/members_and_affiliates.