Council for Collaboration in Doctoral Education Resource Portal
Introduction
In September 2015, the first CCCU doctoral education forum – developed by a grassroots group of doctoral program directors –  was held at Azusa Pacific University with the title, "Doctoral Programs in the CCCU: Conversation and Collaboration." Those who attended expressed strong support for seeing this kind of interaction continue, both through future forums and resource sharing.  This led to the establishment of the CCCU Council for Collaboration in Doctoral Education.
Since its formation in 2016, the Doctoral Council has sponsored a forum in the fall of 2017 and 2019 for doctoral program directors, administrators, and faculty, which drew together over 100 attendees. Our next gathering will take place in the fall of 2022.  Other initiatives in process include webinars, the development of a "white paper" on the purpose, role, and support of doctoral education in Christian higher education institutions, as well as this website portal to provide information and share helpful resources with doctoral personnel at CCCU institutions.
Collaboration
One of the Doctoral Council's major goals is to promote interaction and collaboration among CCCU institutions in the development and support of doctoral education.  Toward this end, we will be striving to:
Keep and update programmatic data on doctoral programs offered by CCCU institutions.
Sponsor and promote biennial forums for doctoral program directors, faculty, and other administrators desiring to develop and maintain strong doctoral education efforts at their schools.  Other events for new doctoral program directors will also be offered as opportunities arise.
Collect and provide helpful resources for doctoral program directors and faculty, including examples of how CCCU institutions  address different aspects of their programs (e.g., coursework, candidacy exams, portfolios, dissertation/project design and supervision, program assessment).
Use these links to learn more about these initiatives and join us as we seek to support strong doctoral education in CCCU institutions.
We will make a database of Doctoral Programs available in the coming months.  If you would like your programs included, along with your contact information (not necessary but preferred), please complete the form below.
Posted Jan 21, 2019
Webinar - April 8, 2022
Shepherding Doctoral Programs in Challenging Times
Date: April 8 (Registration Deadline April 7)
Time: 2:00 – 3:45pm EDT
Cost: NO FEE
Teaching seminars, managing budgets, and overseeing student research has always been challenging. Those challenges feel multiplied in the Spring of 2021! That's why the CCCU Council for Collaboration in Doctoral Education invites Doctoral Program Directors and Doctoral Faculty to join us for a webinar titled, Shepherding Doctoral Programs in Challenging Times.
Drawing from the book, The Way of the Shepherd, by Kevin Leman and Bill Pentak, this webinar will offer practical tips and encouragement from fellow laborers in the field of Doctoral Education. The webinar will open with four panelists providing insights they have discovered on shepherding their doctoral programs. Participants will then enter breakout rooms according to discipline where they will meet fellow doctoral program directors and discuss application points for their specific type of program.
Participants will receive an executive summary of The Way of the Shepherd and are encouraged to purchase and read the book, if possible, in advance of the meeting.
Panalists
Kris Barnett, Associate Dean of the Clamp Divinity School; Director of the Doctor of Ministry program; and Associate Professor of Christian Ministry, Anderson University, SC.
Leihua Edstrom, Professor of Psychology and Director of the Doctoral Program in Counseling Psychology, Northwest University, WA.
Trace Hebert, Director of the Doctor of Education (Ed.D.); Associate Dean for the College of Education; and Professor of Educational Leadership, Lipscomb University, TN.
Kevin Lawson, Chair, CCCU Council for Collaboration in Doctoral Education; Professor of Educational Studies at Biola University, CA.
Registration is now closed.  We will be offering a new webinar in September.  Please look for more information soon.
2022 Council for Collaboration in Doctoral Education Forum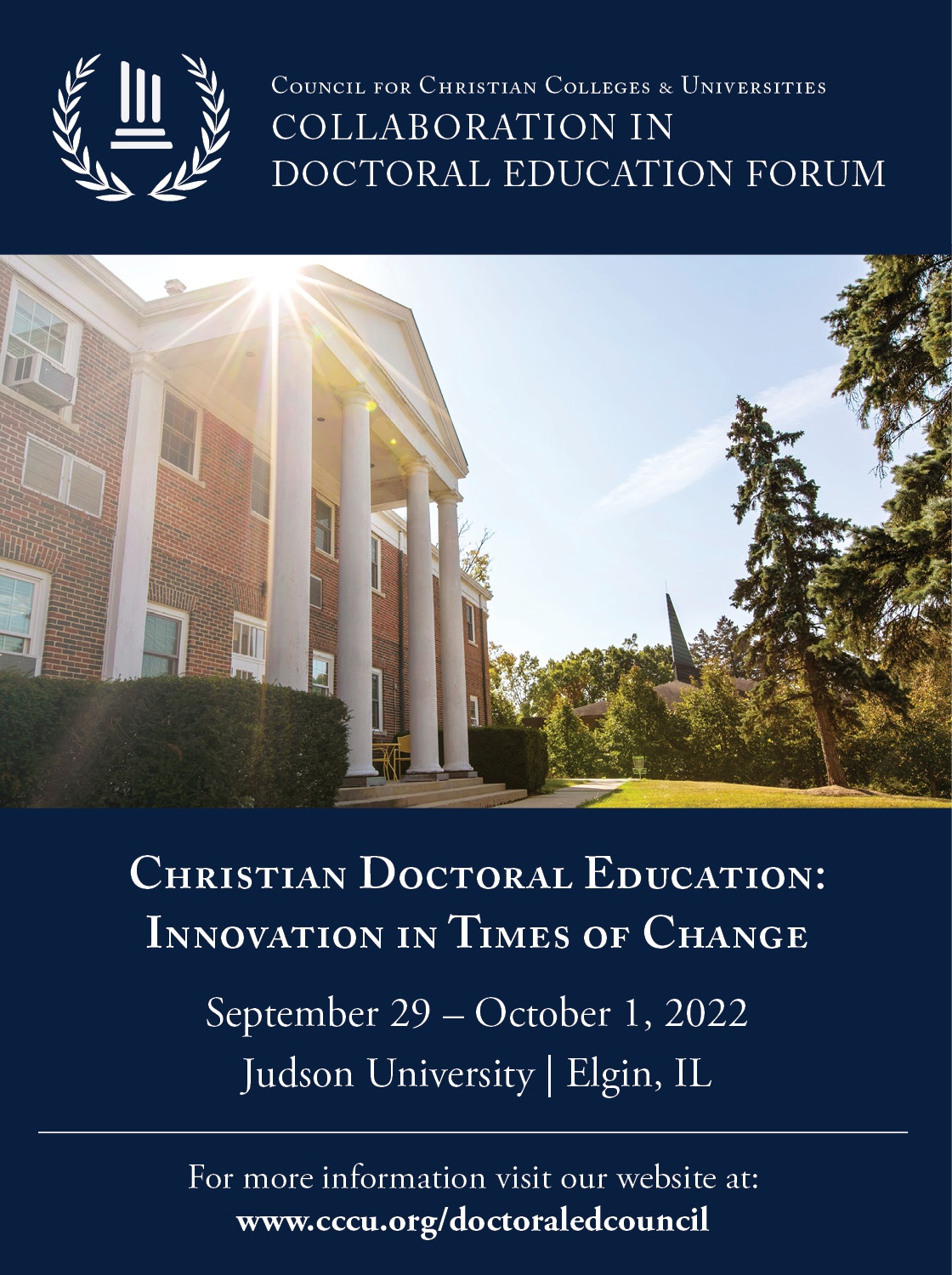 Resources
Doctoral Education in the CCCU - STATS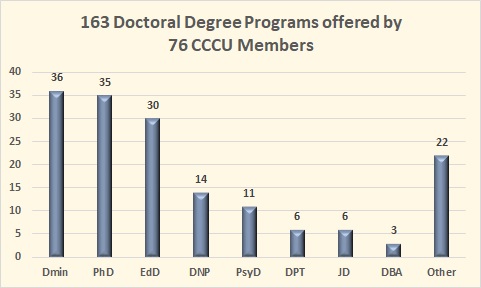 This past year, the editors of the Christian Higher Education journal approached us about developing a Special Issue on "Doctoral Education Issues and Practice in Christian Higher Education." Ben Pyykkonen and I served as the co-guest editors, and we recruited presenters from the last two forums to develop articles for this special issue. This issue just came out in February (Vol. 20, Nos. 1-2). It contains articles addressing issues such as:
• The status of doctoral programs in CCCU schools
• Building community-experience in an online doctoral program
• Impact of stress on doctoral students and ways program leaders can respond to help
• Quality assurance practices with doctoral capstone products (dissertations, etc.)
• Mentoring online doctoral students through their dissertations
• Alternative models/approaches for comprehensive examinations
• Addressing religious diversity needs in Christian doctoral programs
In addition, we have included an annotated bibliography of resources on doctoral education, both here in the U.S. and internationally. You can read
more about the issue by clicking here.
The publishers of the Christian Higher Education journal (Routledge/Taylor & Francis Group) have generously made the articles of this special issue
available free online through the end of March.  Click here to learn more. Access them as well, at the Taylor & Francis Website before April 1st:  https://www.tandfonline.com/toc/uche20/current
---
Reviews of publications, software, and websites, as well as examples of manuals, exams, portfolios, and dissertation/project guidelines you use at your institution, can all be beneficial to your colleagues in doctoral education. As you identify resources that you have found helpful for your work with your doctoral education efforts, and as you develop materials you think may be helpful for others to see, please submit them for review and posting in one or more of the categories identified below by completing the Resource Submission Form below. Feel free to contact Kevin Lawson, kevin.lawson@biola.edu, with questions about possible items to post.
Areas of interest:

General Resources on Doctoral Education
Resources on Research Doctoral Program (Ph.D.)
Resources on Professional Doctoral Program
Clinical Psychology (Psy.D.)
Education/Educational Leadership (K-12 and Higher Education) (Ed.D.)
Doctor of Ministry (D.Min.)
Law (J.D.)
Nursing Practice (DNP)
Physical Therapy (DPT)
Other Doctoral Programs