Doctoral Education Council Resource Portal
UPCOMING EVENTS:
2024 CCCU Doctoral Education Conference – Date: September 26-28, 2024
Doctoral Education in the CCCU - STATS

Christian Higher Education, the premier journal that features articles on the study and practice of Christian colleges and universities, released a Special Issue on "Doctoral Education Issues and Practice in Christian Higher Education" (Vol. 20, Nos. 1-2, 2021). The volume contains articles addressing issues such as:
• The status of doctoral programs in CCCU schools
• Building community experience in an online doctoral program
• Impact of stress on doctoral students and ways program leaders can respond to help
• Quality assurance practices with doctoral capstone products (dissertations, etc.)
• Mentoring online doctoral students through their dissertations
• Alternative models/approaches for comprehensive examinations
• Addressing religious diversity needs in Christian doctoral programs
In addition, we have included an annotated bibliography of resources on doctoral education, both here in the U.S. and internationally. You can read more about the issue by clicking here.
The publishers of the Christian Higher Education journal (Routledge/Taylor & Francis Group) have generously made the articles of this special issue available free online through the end of March.  Click here to learn more. Access them as well at the Taylor & Francis Website before April 1st:  https://www.tandfonline.com/toc/uche20/current
---
Resources
Reviews of publications, software, and websites, as well as examples of manuals, exams, portfolios, and dissertation/project guidelines you use at your institution, can all be beneficial to your colleagues in doctoral education. As you identify resources that you have found helpful for your work with your doctoral education efforts, and as you develop materials you think may be helpful for others to see, please submit them for review and posting in one or more of the categories identified below by completing the Resource Submission Form below. Feel free to contactTrace Hebert, tshebert@lipscomb.edu, with questions about possible items to post.
Areas of interest:

General Resources on Doctoral Education
Resources on Research Doctoral Program (Ph.D.)
Resources on Professional Doctoral Program
Clinical Psychology (Psy.D.)
Education/Educational Leadership (K-12 and Higher Education) (Ed.D.)
Doctor of Ministry (D.Min.)
Law (J.D.)
Nursing Practice (DNP)
Physical Therapy (DPT)
Other Doctoral Programs
PAST EVENT: 2022 Council for Collaboration in Doctoral Education Forum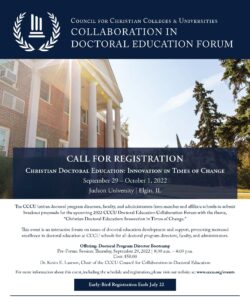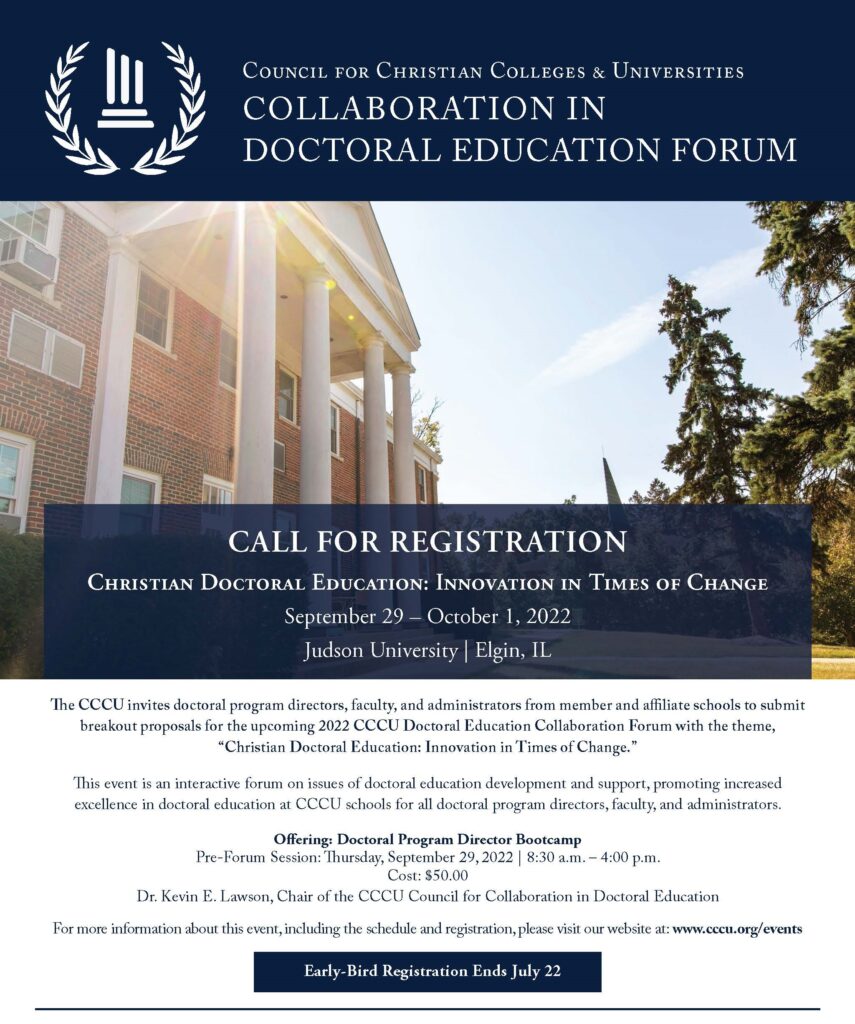 Collaboration
One of the Doctoral Council's major goals is to promote interaction and collaboration among CCCU institutions in the development and support of doctoral education.  Toward this end, we will be striving to:
Keep and update programmatic data on doctoral programs offered by CCCU institutions.
Sponsor and promote biennial forums for doctoral program directors, faculty, and other administrators desiring to develop and maintain strong doctoral education efforts at their schools.  Other events for new doctoral program directors will also be offered as opportunities arise.
Collect and provide helpful resources for doctoral program directors and faculty, including examples of how CCCU institutions address different aspects of their programs (e.g., coursework, candidacy exams, portfolios, dissertation/project design and supervision, program assessment).
Use these links to learn more about these initiatives and join us as we seek to support strong doctoral education in CCCU institutions.
We will make a database of Doctoral Programs available in the coming months.  If you would like your programs included, along with your contact information (not necessary but preferred), please complete the form below.
Posted Jan 21, 2019
Introducing the Council
Doctoral education has been growing within CCCU institutions over the past few decades. In 2021, of the 113 governing member institutions, 46 offered doctoral-level programs, while 76 of the 185 member, partner, and affiliate institutions offered doctoral-level education (Lawson, 2021).
Recognizing that doctoral programs were increasing in Christian higher education institutions, a group of CCCU doctoral program leaders met in 2014 to organize a forum in 2015 where doctoral program directors would meet to learn from each other. This forum was deemed to be a valuable experience that should be repeated and which led to collaboration with CCCU senior staff to organize the Council for Collaboration in Doctoral Education in 2016. This entity was officially renamed in 2023 to the "CCCU Doctoral Education Council (DEC)" and the previously named "Doctoral Education Forums" were officially renamed to the "CCCU Doctoral Education Conference.
Council Members Include:
Trace Hebert, Lipscomb University, Chair
Leihua Edstrom, George Fox University, Vice Chair
Kris Barnett, Anderson University
Roy Chan, Lee University
Dawn Day, Spring Arbor University
Anita Henck, Azusa Pacific University
Ben Pyykkonen, Wheaton College
Kevin Lawson, Biola University, ex officio past chair
Stan Rosenburg, Vice President for Research, CCCU, ex-officio
Jeff Clawson, CCCU Staff, ex-officio