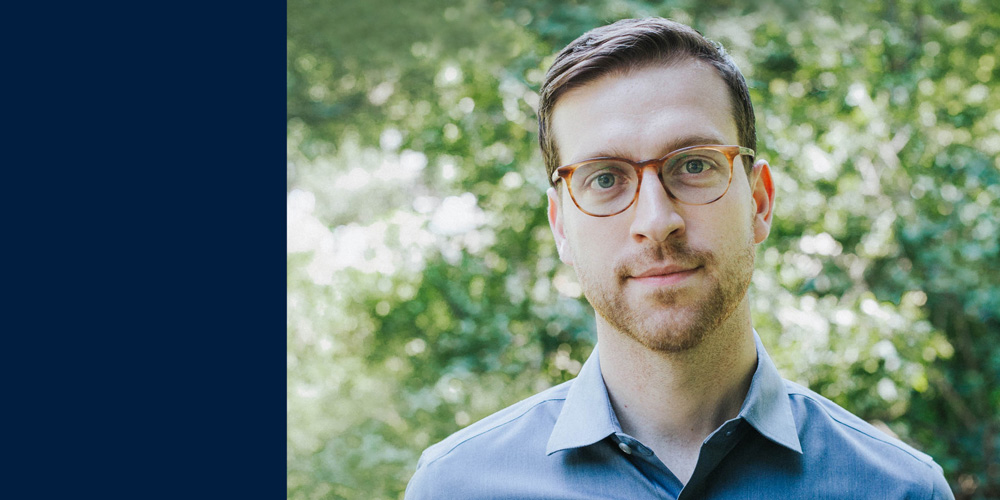 Graham Smith Named CCCU Young Alumni Award Winner
The Council for Christian Colleges & Universities (CCCU) is pleased to announce that Graham Smith, a 2012 graduate of Wheaton College and co-founder of the Times Square Restaurant P.S. Kitchen, has been named the 2020 CCCU Young Alumni Award winner. The award will be presented on Wednesday, January 29, during the 2020 CCCU Presidents Conference in Washington, D.C.
Smith opened P.S. Kitchen with his wife, April Tam Smith, in 2017 in the heart of New York City. The restaurant's mission is three-fold: to create jobs for people who were previously incarcerated or homeless, to donate 100% of the profits to sustainable charitable work locally and overseas, and to serve a vegan menu that's "kind to the body and the earth," according to the restaurant's vision statement. In one of the wealthiest cities in the world, P.S. Kitchen acts as a beacon of generosity and empowerment and brings together individuals from all walks of life.
"Graham Smith is an exceptional individual who has committed to living his life in a radically generous way," shares CCCU President Shirley V. Hoogstra. "He and his wife are working to break the cycle of poverty and empower individuals with hope and dignity by creating jobs for marginalized populations in New York City. Smith serves as a true embodiment of the purpose of Christian colleges & universities: to graduate students who love the Lord with all their heart, with all their soul, and with all their mind."
"I feel honored and grateful to accept this award," says Smith. "Jesus was always thinking about the least of these and how to, essentially, give. I think that a giving heart comes from God himself, but I'm also inspired by other people who have experienced God's generous love and want to pass it on to others. Wheaton College means a great deal to me, and my time at Wheaton truly shaped the way I work, engage, and pursue storytelling in New York City and created the foundation on which I now stand."
During his time at Wheaton College, Smith developed a desire to use business as a medium to help the world around him. Before graduating, Smith took to heart the advice of Wheaton Professor Dr. David Sveen, who warned students about the concept of "Golden Handcuffs" which force individuals to always have a high paying career in order to sustain a luxurious lifestyle. Heeding this advice, after moving to New York and beginning work as an investment banker, Smith intentionally lived frugally and began "reverse tithing"—living on just 10 percent of his income and giving away the remaining 90 percent.
Already, Smith has donated more than $130,000 in P.S. Kitchen proceeds to benefit nonprofits, including Restore, aimed at ending sex trafficking in the city, The Bowery Mission, which helps New Yorkers experiencing hunger and homelessness, Justice Rising, dedicated to seeking peace in war-torn communities, and Defy Ventures, working to empower the formerly incarcerated.
"Graham Smith is a dynamic leader who makes a difference for Christ and His Kingdom in New York City," shares Wheaton College President Philip Ryken. "Graham's commitment to total life stewardship was evident already during his time at Wheaton College. Here he engaged faculty, alumni, and administrators (including this president) in thoughtful conversations about money, the marketplace, and Christian discipleship. I hope his example inspires other CCCU graduates to think and act creatively for the common good."
The CCCU Young Alumni Award is presented to individuals who have graduated within the last 10 years from a CCCU institution and have exhibited uncommon leadership or achieved notable success in a way that reflects Christian higher education. Previous recipients include Dr. Jacob Atem (Spring Arbor University), a former "Lost Boy" of Sudan and co-founder of the Southern Sudan Healthcare Organization, and Angie Thomas (Belhaven University), author of the New York Times bestseller The Hate U Give.
In addition to naming Smith as the winner, Michaela Kirk, an engineering alumna of Lipscomb University, was recognized as a runner-up for paving the way for women in the fields of construction and engineering and for providing opportunities for girls to follow their passion. Not only is Kirk a business development engineer at Turner Construction, but she also worked to start Girls Build it, a free two-day camp that introduces girls to the field of engineering with some of her colleagues.
London Booker, a graduate of Roberts Wesleyan College and vice president of RocE6, an organization dedicated to introducing inner-city youth to sports they might not normally play and supporting their education, was also recognized as a runner-up for this award. Attending one of RocE6's camps himself during his youth changed the trajectory of Booker's life and encouraged his passion for lacrosse. Following an NCAA Division II lacrosse career at Roberts Wesleyan, Booker uses his current role to coach and mentor students as they develop skills in lacrosse.
All media inquiries regarding the CCCU Young Alumni Award and 2020 Presidents Conference should be directed to media@cccu.org.