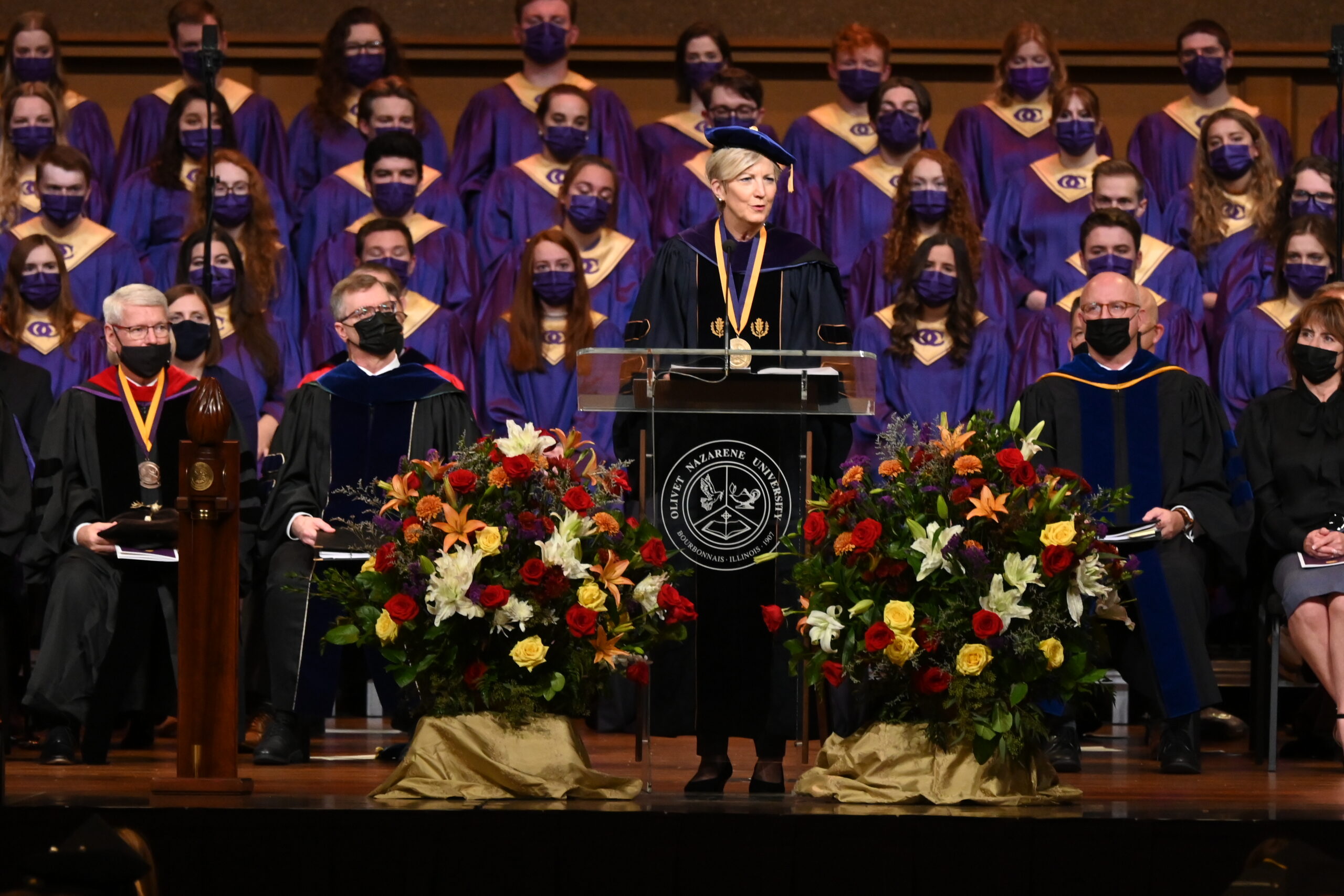 CCCU President Receives Faith and Leadership Award
(BOURBONNAIS, IL) – Shirley V. Hoogstra, President of the Council for Christian Colleges & Universities (CCCU), received the 19th Maggie Sloan Crawford Award at the recent inauguration of Olivet Nazarene University's (ONU) new incoming president, Gregg Chenoweth. The award, named after Olivet's first graduate, has been presented to a woman whose faith is evident in their commitment to service and a life committed to leadership and exemplification of Christian ideals since 1995.
Hawkins Centennial Chapel was filled with members of the Olivet community Friday, October 22, for the inauguration of Chenoweth, the 13th President of Olivet Nazarene University, where Hoogstra received the award.
"It is the honor of a lifetime for me to be associated with Maggie Sloan Crawford. She valued education. She was a preacher of the good news of Jesus Christ. She valued service as a primary marker of a worthy life—service with her husband as a church planter, service as mother to her sons and daughter and later her grandchildren," said CCCU President Shirley V. Hoogstra. "She served the church her whole life and clearly valued Christian higher education, therefore by extension this award today serves to further Christian higher education. I am honored to have my name now linked with her, her ideals, and her legacy."
Maggie Sloan Crawford was a woman of deep faith and intellectual capacity who lived at a time when women were rarely able to be active in professional careers or clergy, yet she persisted resolutely in preaching the gospel of Jesus Christ and shining as an example of deep faith, intelligence, and holiness in action. Her sons Cecil, Milton, Roy, and John created this award as a lasting tribute to their mother and as an investment in Christian higher education's formation of women of faith in leadership. Past recipients include politicians, church leaders, educators, musicians, artists, activists, business women, authors, and missionaries including Elizabeth Dole, Shirley Dobson, Sandra Day O'Connor, and Dr. Leah Marangu.
"Olivet Nazarene University treasures the vision of Maggie Sloan Crawford's devoted sons who established an endowment that continues to honor the memory of their mother and to enrich the lives of countless students," said Dr. John C Bowling, president-emeritus of Olivet, in the video presenting the award. "The Crawford family's ongoing support illustrates an unwavering commitment to Christian higher education and has inspired numerous others to follow their example of selfless generosity."
_
About Olivet Nazarene University
Olivet Nazarene University is an accredited Christian, liberal arts university offering more than 140 areas of undergraduate and graduate study, including the Doctor of Education in ethical leadership. Olivet's 275-acre park-like main campus is in Bourbonnais, Illinois, 45 miles south of Chicago. Additionally, the School of Graduate and Continuing Studies offers online education with offices and meeting spaces throughout Chicagoland and the Midwest. From Oxford to Tokyo, hundreds of Olivet students also experience the global classroom each year through study abroad opportunities, internships, and worldwide mission trips.
More ONU news is available at Olivet.edu, Facebook, Twitter, YouTube and Instagram. Licensed University photos and official logos available upon request.
About Shirley V. Hoogstra
As CCCU president, Hoogstra has overseen the introduction of a variety of new, innovative initiatives, including an online course-sharing consortium, insurance consortium, accreditation steering council, and doctoral education council. She has focused on expanding diversity and inclusion on CCCU campuses and making education available, accessible, and affordable to all students. Hoogstra continues to be an advocate for increasing access to education for incarcerated individuals and supporting undocumented students as they seek to complete their education. A complete bio can be found here.
About the CCCU
The Council for Christian Colleges & Universities is a higher education association of more than 185 Christian institutions around the world. Since 1976, the CCCU has served as the leading national voice of Christian higher education. With campuses across the globe, including more than 150 in the U.S. and Canada and more than 30 from an additional 19 countries, CCCU institutions are accredited, comprehensive colleges and universities whose missions are Christ-centered and rooted in the historic Christian faith. Most also have curricula rooted in the arts and sciences. The CCCU's mission is to advance the cause of Christ-centered higher education and to help our institutions transform lives by faithfully relating scholarship and service to biblical truth.
Image Gallery