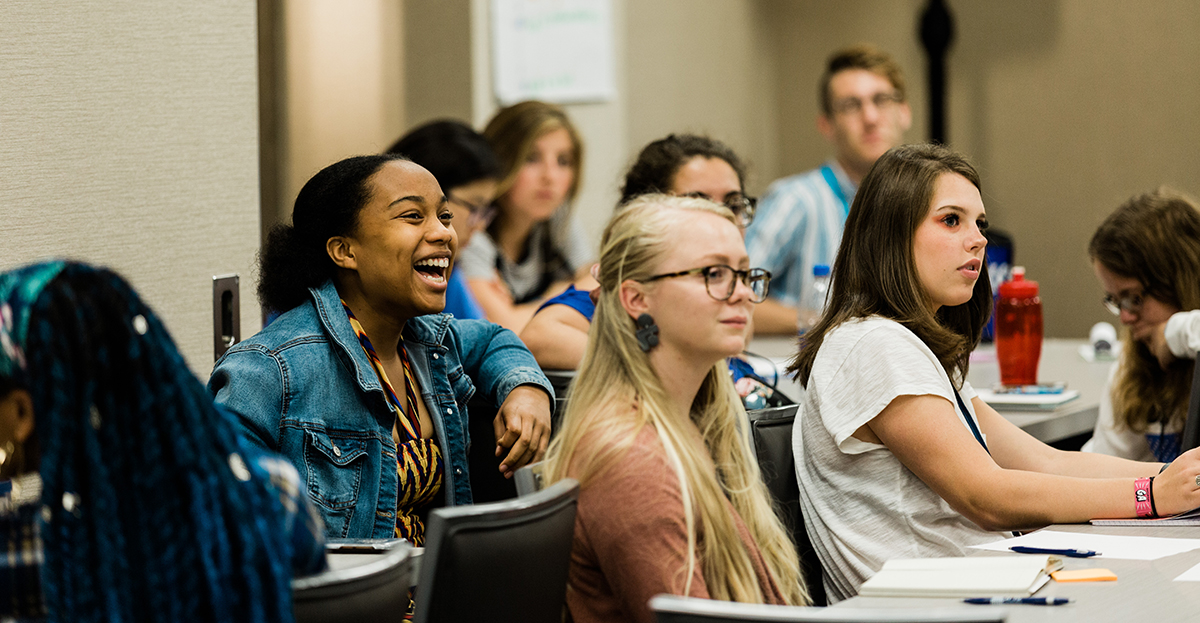 16 CCCU Campuses Awarded Grants for Interfaith Work
The Council for Christian Colleges & Universities (CCCU) and Interfaith Youth Core (IFYC) have awarded nearly $20,000 in grants to 16 CCCU campuses to integrate a newly developed online curriculum, "Christian Leadership in a Multifaith World," into existing coursework and student leadership development programs.
Together, the CCCU and IFYC are committed to elevating the importance of religious literacy and bridge-building. Through generous support from The Arthur Vining Davis Foundations, the CCCU and IFYC developed an online curriculum to explore the foundation for interfaith engagement, build students' religious literacy, and equip students to lead bridge-building activities in their communities.
A groundbreaking longitudinal study of 3,500 nationally representative college students across the country showed that students who took part in activities that intentionally engaged religious diversity simultaneously deepened their commitment to their own religious identity.
"I am often asked why as Christians we engage in interfaith work. We believe (and research shows) that this kind of work builds and deepens our own faith, and that we better learn to articulate our own faith when we dialogue with other faith traditions," says CCCU President Shirley V. Hoogstra. "At the CCCU, we are committed to the idea of resilient discipleship. We want to equip and empower our students to build a resilient faith and to better understand their own beliefs by engaging with the beliefs of others."
Individual $1,000 grants were awarded to faculty and staff on CCCU campuses to use the pilot curriculum with their students and offer feedback to the CCCU and IFYC on ways to strengthen the activities for future use. Many of the grantees plan to utilize the curriculum to help students develop awareness of and deepen relationships with those in their community from other faiths by partnering with community organizations to host discussions or community projects (pending COVID restrictions). Others plan to use the curriculum in classes geared toward student leaders or future ministers to develop their intercultural capacities and leadership skills.
A second round of "Christian Leadership in a Multifaith World" grants will be awarded to support interfaith work on CCCU campuses this coming fall. The application cycle for Fall 2021 will begin on February 25 and the first selection deadline will be April 1, followed by a second selection deadline of May 15.
"Evangelical Christians make significant contributions to American civic life," said Dr. Eboo Patel, President and Founder of IFYC. "IFYC is delighted to partner with CCCU to offer the next generation of Christian leaders tools to increase their interfaith literacy, grow in their own faith commitments, and build bridges with diverse religious communities."
The universities and individuals who received grants include:
Biola University (Michal Meulenberg, Assistant Professor of Intercultural Studies)
Calvin University (Frans van Liere, Professor of History)
Fresno Pacific University (Darren Duerksen, Associate Professor of Intercultural and Religious Studies)
Indiana Wesleyan University (Chan Woong Shin, Associate Professor of International Relations)
John Brown University (David Vila, Professor of Religion and Philosophy)
Lee University (Arlie Tagayuna, Assistant Professor of Behavioral and Social Sciences)
Life Pacific University (Dorothy Kropf, Director of Online Undergraduate Programs)
Mount Vernon Nazarene (Hank Spaulding, Associate Campus Pastor)
North Park University (Rajkumar Boaz Johnson, Professor of Hebrew, Bible, and Theological Studies)
Palm Beach Atlantic University (Kyle Faircloth, Associate Professor of Intercultural Studies)
Pepperdine University (John Barton, Professor of Teaching of Religion and Director, Center for Faith and Learning)
Pepperdine Caruso School of Law (Tiffany Williams, Associate Director of Advocacy, Empowerment, and Faith)
Roberts Wesleyan College (Ervin Starr, Chair of Undergraduate Business)
Samford University (Cameron Thomas, Director of Diversity Enrichment and Relations)
Sterling College (Paul Brandes, Chaplain)
Vanguard University (Kayli Hillebrand, Associate Dean of International and Experiential Education)
For more information about the CCCU and IFYC partnership, visit https://ifyc.org/grants/cccu.