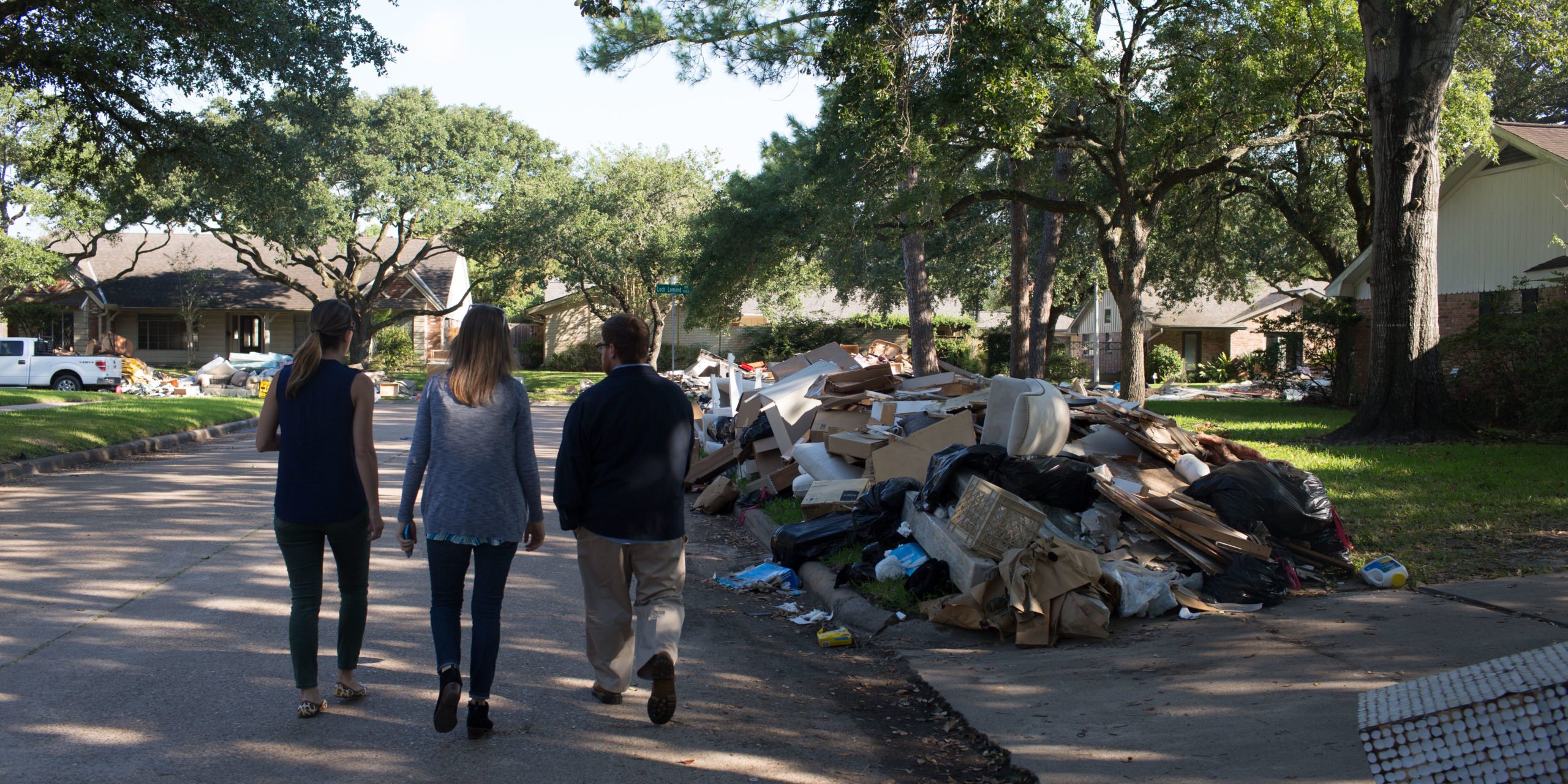 When Hurricane Katrina made landfall in late August of 2005, it forever changed the lives of millions of people – including that of Jamie Aten, who six days earlier had moved his family to Hattiesburg, Mississippi, for his new role as an assistant professor at the University of Southern Mississippi. He saw firsthand the destruction and suffering caused by the hurricane. In the aftermath, he also saw the churches and faith-based organizations who leapt to help with the cleanup and recovery process. Though he recognized the important role they had, the trained psychologist in him perceived that their current "help" was not very helpful at all. "I realized there was a lack of research around the intersection of faith, trauma, and resilience in the context of disasters," Aten said. A gap needed to be filled.
In 2010, Aten came to Wheaton College and founded the Humanitarian Disaster Institute (HDI), the first faith-based academic disaster research center in the country. Early on, HDI focused on research to help the church prepare and care for those vulnerable from disasters. Their research provides information on operating in the sphere of disaster relief with tip sheets, devotionals, manuals, books, and articles.
The data HDI shares on their website proves the need for such training is immense: Fires, hurricanes, floods, and earthquakes wreak havoc in the world right now, with a 400 percent increase in natural disasters since 1985. Worldwide, 125 million people currently need humanitarian assistance because of disasters. HDI works toward developing best practices to help these people, using research and data in order to empower the next generation of leaders in the humanitarian and disaster sector.
This work culminated with the launch of the M.A. in Humanitarian and Disaster Leadership (known as the HDL program) in the Wheaton College Graduate School in 2018. Aten says the program is the first of its kind, focused on humanitarian and disaster preparation through faith-driven leadership. Training like this is also important in addressing those in other vulnerable situations, Aten says, because they are interconnected and lead to other problems in our society. Human trafficking, displacement, gender-based violence, and climate change – all are issues affected by the occurrence of disasters.
HDI has added a number of fellows to increase knowledge around these different initiatives and to mentor students. For example, Belinda Bauman, the founder of One Million Thumbprints, an organization that seeks to help women and girls affected by violence, has mentored a group of students developing an organization to raise awareness for the issue of gender-based violence. The fellows program is an invaluable way to help students learn and practice here as they prepare for careers in this field, Aten says.
Kent Annan, the HDL program director, said he became aware of it over a cup of coffee with Aten. "I was immediately struck that this was the perfect timing for a program like this in our sector, where nothing like this really existed," says Annan. He came to Wheaton after spending more than 20 years working around the world, most recently leading Haiti Partners, a nonprofit he co-founded.
In the launch of HDI and its master's program, Annan saw an opportunity to develop faith leaders who are excelling in leadership, research, and best practices, all with the goal of serving vulnerable people who need help. "It's the degree I would have loved to get when I was getting started doing [this] work," Annan says.
Students in the program have the option to finish with a year of full-time study or two years of part-time coursework. Additionally, current Wheaton undergraduate students can begin classes their senior year as one of Wheaton's accelerated master's options, and there is also a unique cohort opportunity available to employees of members of the Accord Network (a group of Christ-centered relief and development professionals and organizations).
Kati Shepardson says she never considered going back to school after graduating college, but this program changed her mind. "I wanted to become better equipped to serve and work at higher levels in disaster response," she says. Her ability to work full-time and complete her degree in two years made her participation possible. She says the Wheaton HDL program changed her life, in part because the program doesn't have any "typical" type of student. People who have been working in the sector for years learn alongside recent undergraduates, and all seek to root themselves in best practices to serve humbly and seek justice in the world. As a result, Shepardson says, "I have gained a new confidence that I have something to contribute to the humanitarian and disaster field."
One of the most valuable and integral parts of the master's program is its emphasis on experiential education. Students create their own mock NGO, complete with name, mission, research, and fundraising pitch. Visits to NGOs, government agencies, and businesses help give context to the more abstract classroom learning. The Field Operations course is a one-week experience in which students undergo real-life simulations from the field in disaster zones. Annan says, "It's intense, but it's some of the most unique preparation they can receive as they put into practice all the concepts and methodologies they've learned about in class."
Currently, 52 students are enrolled in the program and come from all over the world, including Uganda, Taiwan, the Dominican Republic, England, and Costa Rica. Aten sees the impact and potential of his work manifested in these future leaders:  "Our students – and Wheaton College students in general – are hungry for ways to put their faith into action and serve the most vulnerable."
Jeff Carlson is the CCCU's government and external relations fellow and a graduate of Wheaton College.