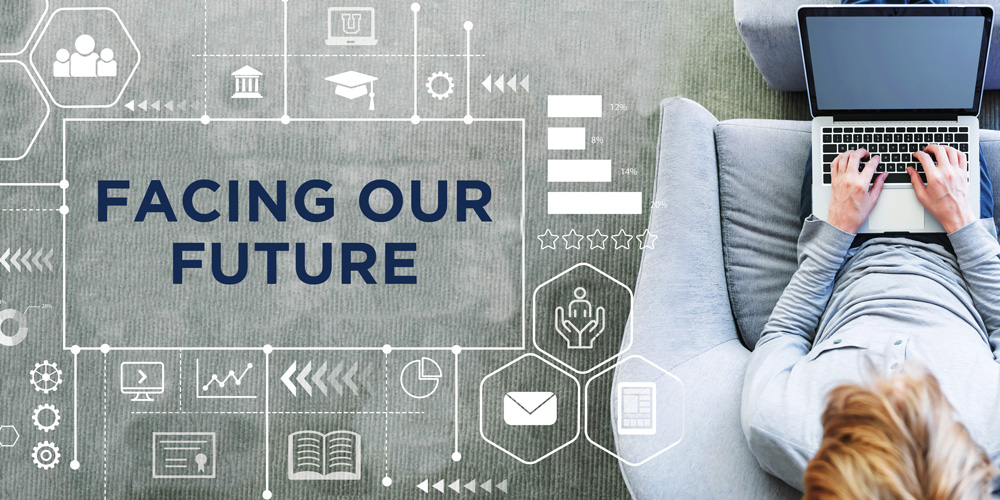 CCCU Webinar Series: Opportunities & Challenges for Higher Education
To address the far-reaching impacts of COVID-19, the Council for Christian Colleges & Universities both hosted and participated in a number of webinars on critical issues facing the higher education industry.
Crisis Decisions
Co-hosted with Graystone Consulting, this virtual event featured Nobel Laureate Dr. Richard Thaler, author of the global bestseller Nudge, on how COVID-19 has impacted human behavior, including how our personal biases impact our decision-making abilities and why and when we tend to overreact or underreact to a situation.
What About the Fall Semester? Christian Higher Education After COVID-19
Hosted by Vanderbloemen, this panel discussion featured Dr. Barry Corey, President, Biola University; Dr. David Dockery, President, International Alliance for Christian Education; Dr. Robert Sloan, President, Houston Baptist University, and Dr. Shirley Hoogstra, President, CCCU, who addressed the question: How can we begin to prepare for substantial changes in the pedagogy after such an unprecedented time? Click here to view the video recording.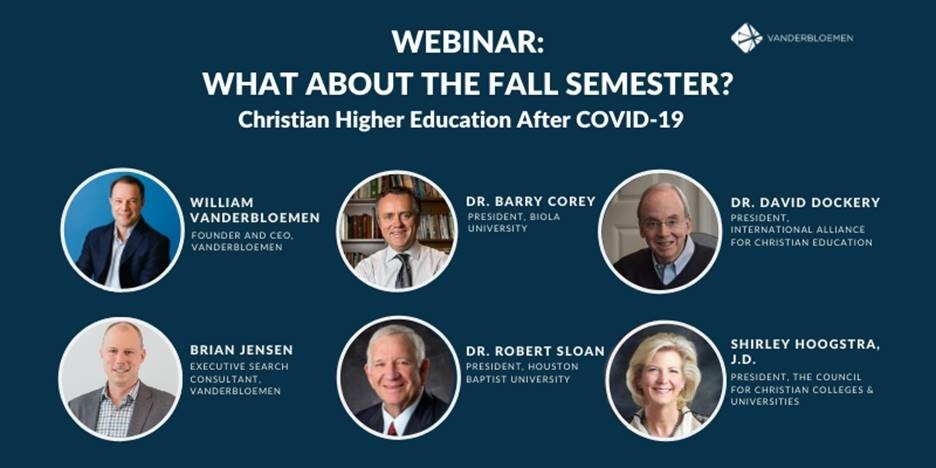 Market Risk & Opportunities
Co-hosted with Graystone Consulting, this virtual event featured George Cook, institutional consulting director at Graystone Consulting, on how COVID-19 is impacting the markets and what it means for higher education investment portfolios. Click here to access the slide deck.
Health, Safety & Reopening Campuses
Co-hosted with Graystone Consulting, this virtual event featured Dr. Nicholas Pennings, director of the Campbell University Health Center and chair of family medicine at the Campbell University School of Osteopathic Medicine, on health and safety protocols to consider for re-opening campuses.
An Essential Model for Reopening Campuses
One of the most important decisions institutions face in the midst of COVID-19 is when to reopen campuses to employees, students, and guests. Dr. Colin Coyne, chief strategy officer at Samford University, shared a return-to-operations (RTO) model that lets users customize critical variables to generate institutionally specific estimates for return-to-operations decisions. A copy of Dr. Coyne's model and white paper are available, as well as a sample dashboard printout. Click here to listen to the audio recording.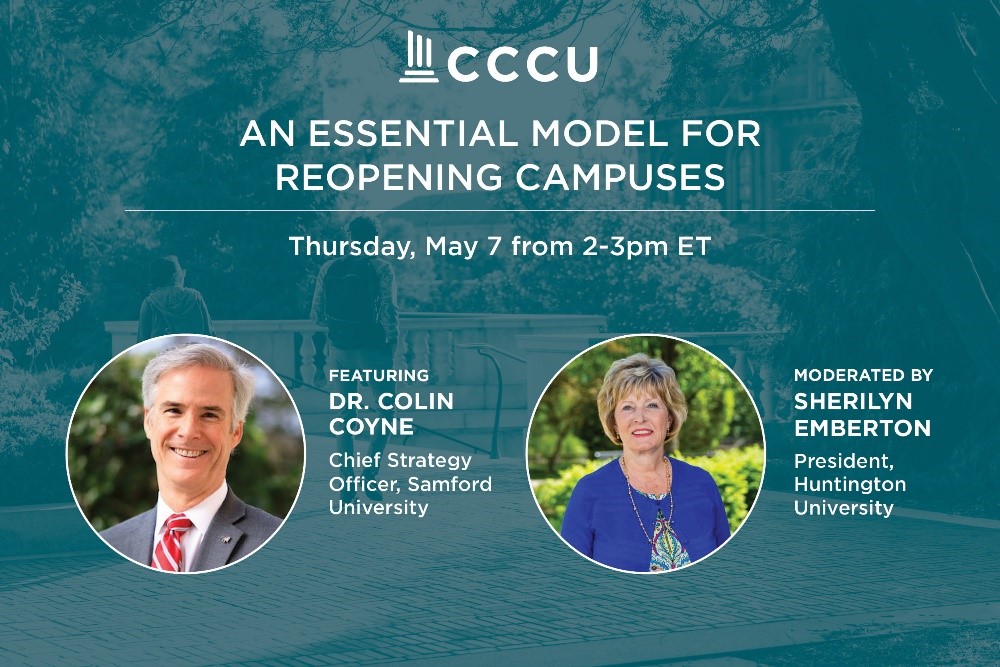 Living Faithfully in a World of Difference
Hosted by Christianity Today, this livestream event featured Tim Keller, John Inazu, Lecrae, Sarah Groves, Claude Richard Alexander, Shirley Hoogstra, and more to discuss how Christians can find common ground with those whose beliefs are radically different from their own. Click here to view the video recording.
Revenue in a Time of COVID-19: Enrollment & Advancement Impacts
COVID-19 is changing the nature of both admissions and fundraising work across higher education. Co-hosted with The Signatry, this webinar featured President Paul Conn at Lee University and President Angie Richey at Life Pacific University, along with leading experts from Credo and The Signatry, to discuss how campuses can respond and adapt to new challenges in enrollment and advancement work. Click here to view the video recording.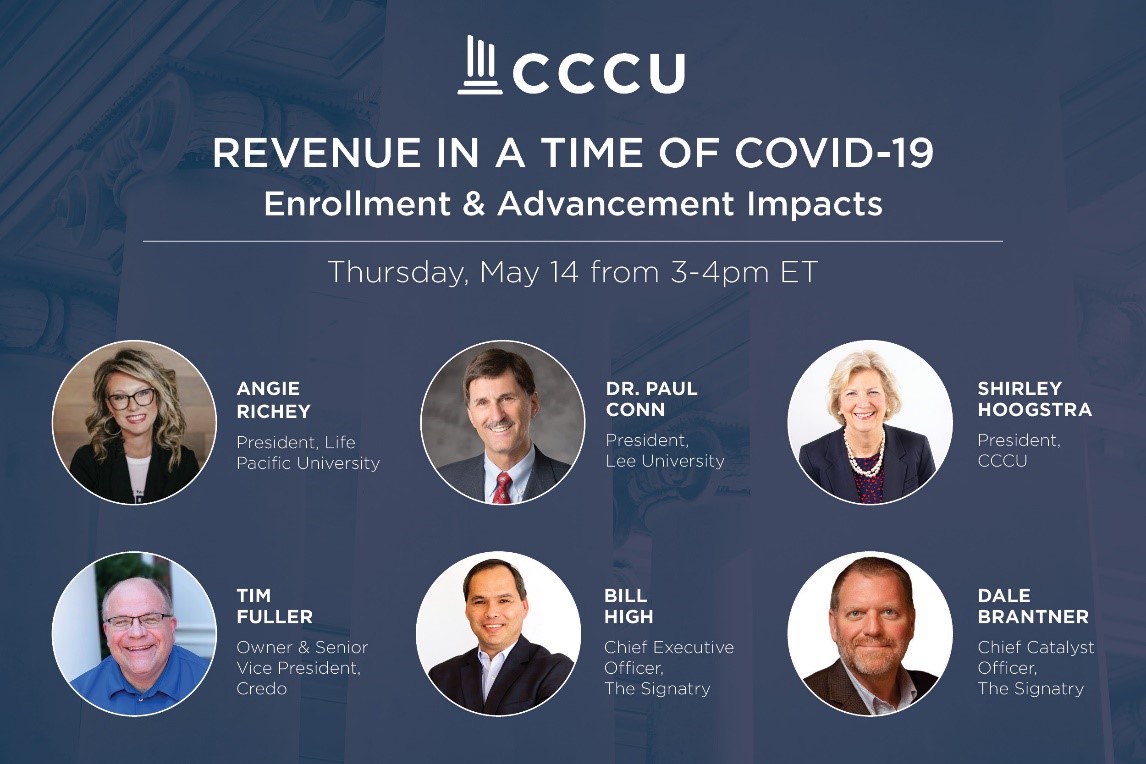 What Does the Future Hold for Christian Colleges?
A breakout session as part of the American Enterprise Institute's virtual faculty summit featured Shirley Hoogstra, President Kevin Brown at Asbury University, and President Gayle Beebe at Westmont College. Click here to view the video recording.
Crisis-Ready Leadership
Co-hosted by the CCCU and the Trinity Forum, this conversation focused on leadership in a time of crisis, featuring Shirley Hoogstra, Russell Moore, Justin Giboney and Walter Kim. What does it take to listen, respond, learn, and lead? How do leaders prepare for the unexpected and unpredictable? Click here to view the video recording.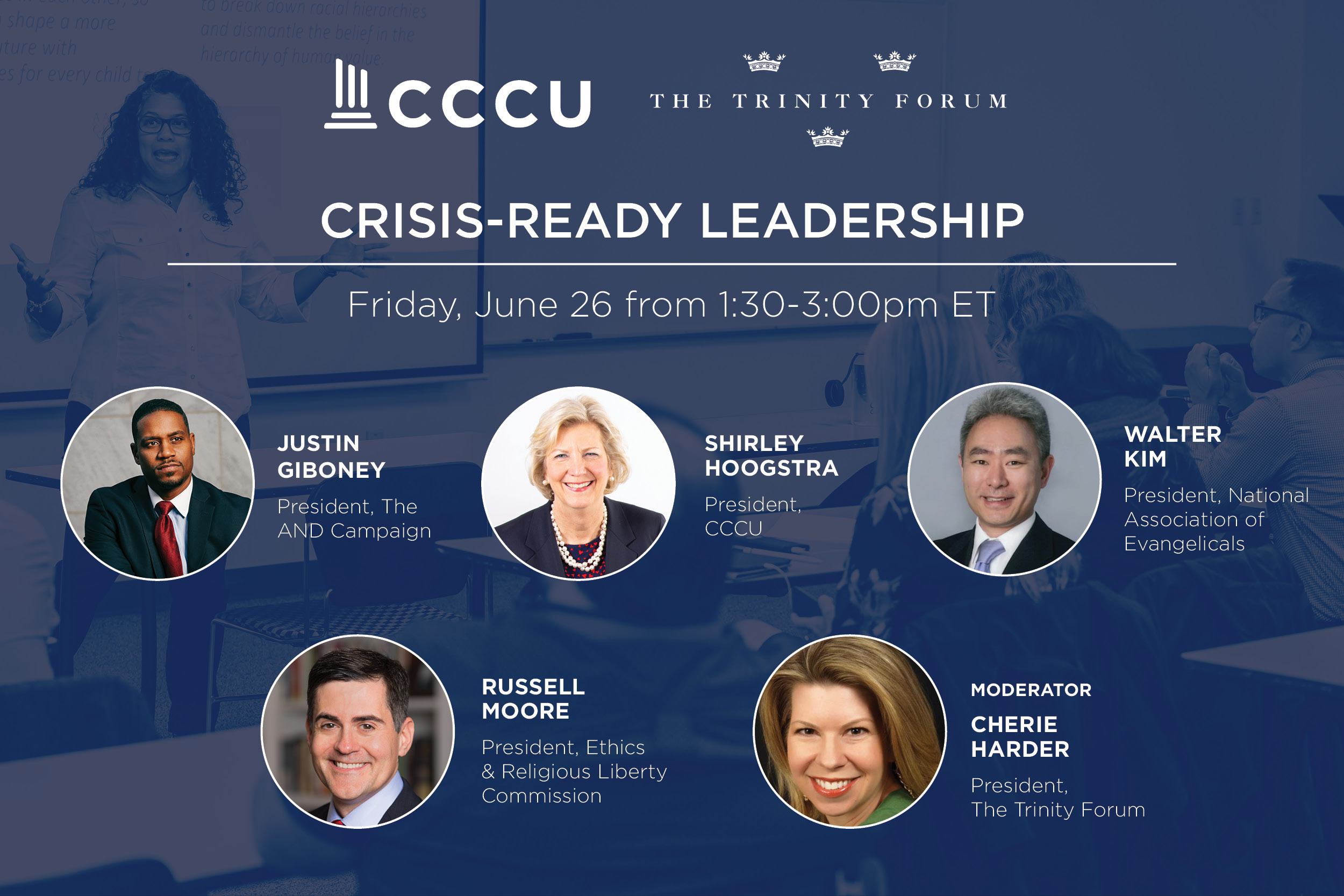 Engaging Politics with Love and Truth
The Trinity Forum and CCCU welcomed AND Campaign President and author of the best-selling new release Compassion (&) Conviction, Justin Giboney, for a timely conversation. Click here to view the video recording.
Leading Through Crisis
A panel of higher education leaders discuss navigating a turbulent time within higher education, including leading during simultaneous crises, wrestling with the long-term impact of these crises, preparing for the long road ahead, and utilizing collective resources to support leaders in higher education. Click here to view the video recording.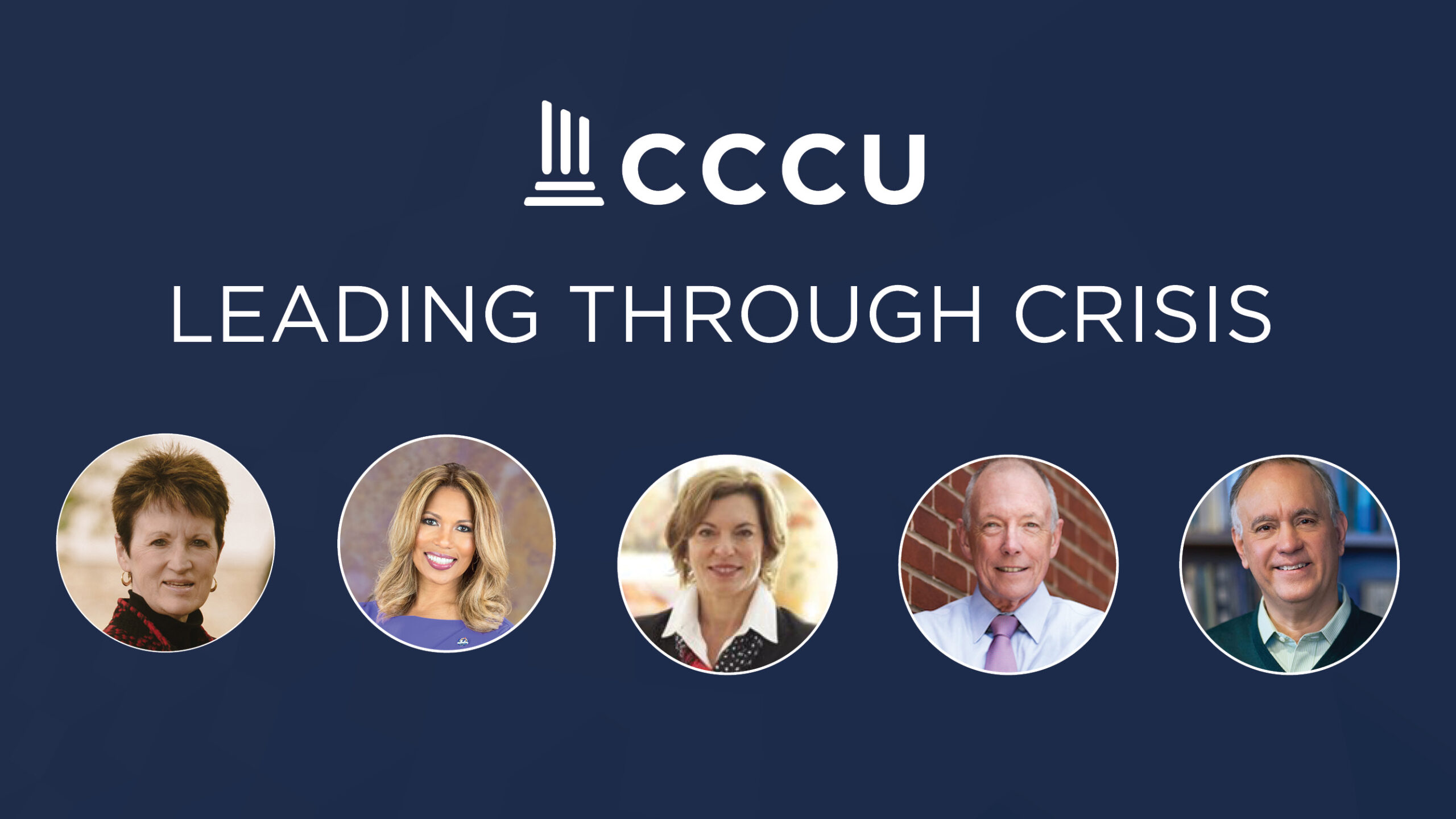 Panel Discussion: The Explosion of Online Learning
Faculty from a variety of disciplines discuss the sudden shift to distance learning in the spring of 2020 and lessons learned from a disrupted semester, including insights on education quality, accessibility, and innovation for the future. Click here to view the video recording.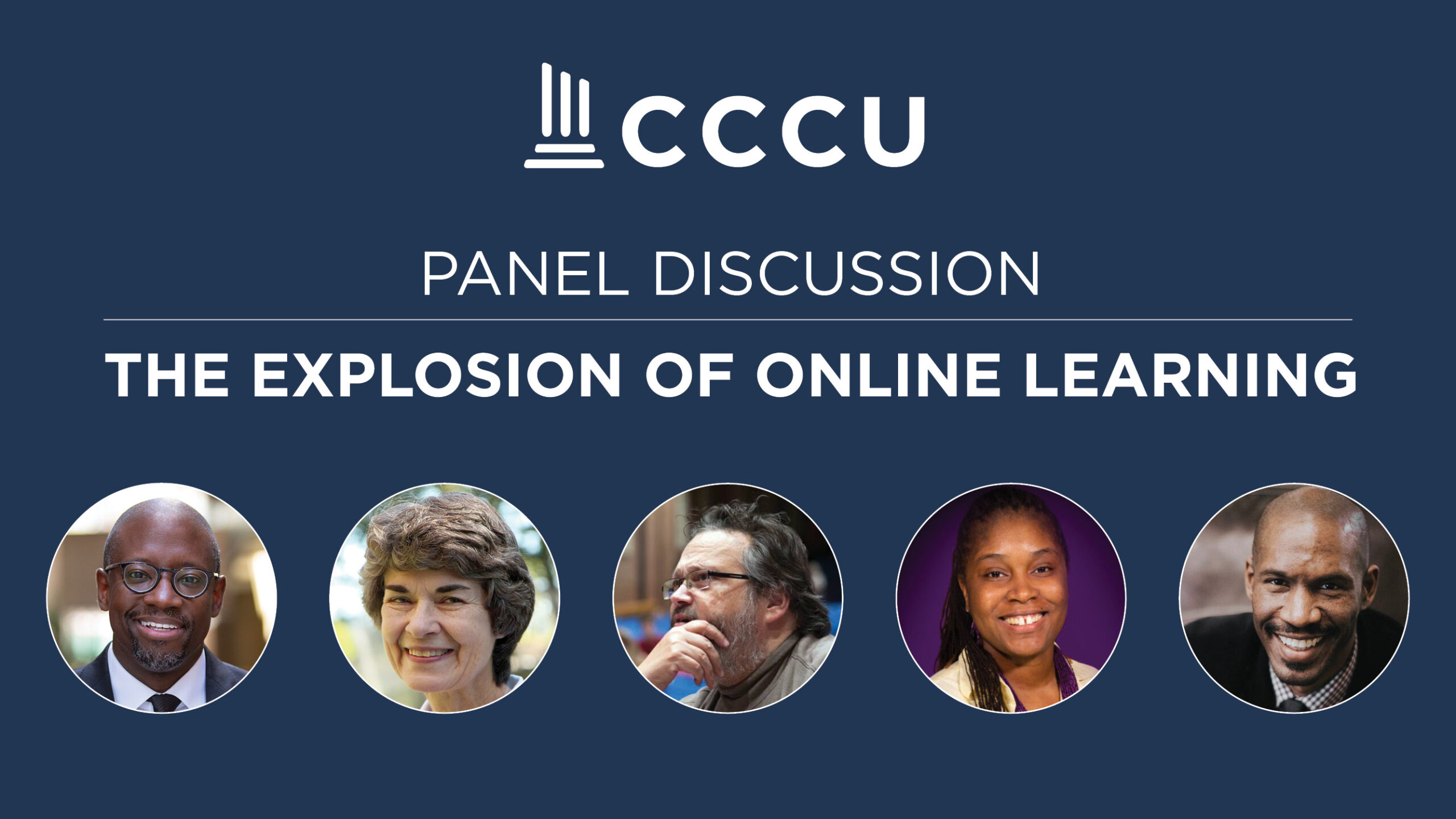 Compassion & Conviction: Faithful Civic Engagement
How can Christian college students pursue faithful civic and cultural engagement? The AND Campaign's Justin Giboney and Michael Wear discuss how their new book, "Compassion (&) Conviction: The AND Campaign's Guide to Faithful Civic Engagement," can help equip Christian college and university campuses to facilitate conversations around social justice and political engagement. Click here to view the video recording.