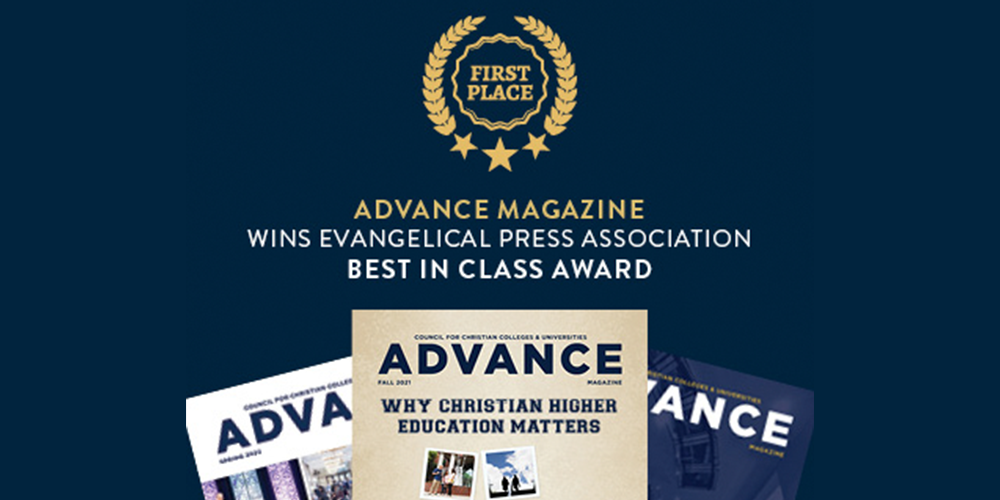 ADVANCE Magazine is Best in Class
(Washington, D.C.)—The Council for Christian Colleges & University's ADVANCE magazine has won first place in its class for a 2022 award from the Evangelical Press Association (EPA).
Awarded specifically for its Fall 2021 issue, ADVANCE, the communication piece for the CCCU's 185 member institutions, won Best in Class in the category with a print run between 4,000 and 5,000. The summer contest grouped magazines in categories based on circulation rather than type, which are judged in EPA's annual Awards of Excellence. Each summer entry was split into eight circulation ranges marked A through H according to size of readership, with additional categories based on format such as newsletters, newspapers and websites. Two judges scored each category to determine placement.
Founded in 1948, the Evangelical Press Association is a professional organization of Christian print and digital publications. As a professional trade organization today for the evangelical periodical publishing industry, it includes over 300 members ranging from organisations like the CCCU to Christianity Today and World Vision, and whose publications have a combined readership of more than 20 million readers.
"This issue of ADVANCE was a breath of fresh air for us to work on," said Morgan Feddes Satre, managing editor, and alumna of Whitworth University who is currently pursuing her M.Div. at Fuller Seminary. "After a year of focusing on the powerful and innovative ways CCCU campuses were responding to the challenges raised by the global pandemic, we wanted to take a step back and get a larger view. Our primary goal for the issue was to highlight just what makes Christ-centered higher education so valuable for the public square."
Feddes Satre said the CCCU's editorial team decided to share stories of the difference Christ-centered education makes in society, including for those on the margins or who are overlooked entirely. The issue addressed issues such as fighting racism on campus, living a noble life and how research can be an act of worship. "We wanted to encourage our members that the work they are doing deeply, truly matters to the world, and in ways you might not quite expect," she said. "ADVANCE is created through close partnership with leaders across CCCU campuses so this award recognizes their work as well."
Like the CCCU, EPA focuses on excellence, faith, education, credibility and community, specifically as "it serves the kingdom of God through written, print, and digital communications." Its core purpose "is to strengthen evangelical periodicals through inspiration, instruction, and networking." Some CCCU college and university publications are also EPA members or can become members.
"This is a great acknowledgement of the good work our member institutions are doing, which is reflected in every issue of ADVANCE," said Shirley Hoogstra, president of the CCCU. "I'm so proud of our communication team for this award from another outstanding organization like the Evangelical Press Association. There are so many great stories to tell that honor God and reflect our mission for God's Kingdom."
ABOUT the CCCU
The Council for Christian Colleges & Universities is a higher education association of more than 185 Christian institutions around the world. Since 1976, the CCCU has served as the leading national voice of Christian higher education. With campuses across the globe, including more than 150 in the U.S. and Canada and more than 30 from an additional 19 countries, CCCU institutions are accredited, comprehensive colleges and universities whose missions are Christ-centered and rooted in the historic Christian faith. Most also have curricula rooted in the arts and sciences. The CCCU's mission is to advance the cause of Christ-centered higher education and to help our institutions transform lives by faithfully relating scholarship and service to biblical truth.
# # #