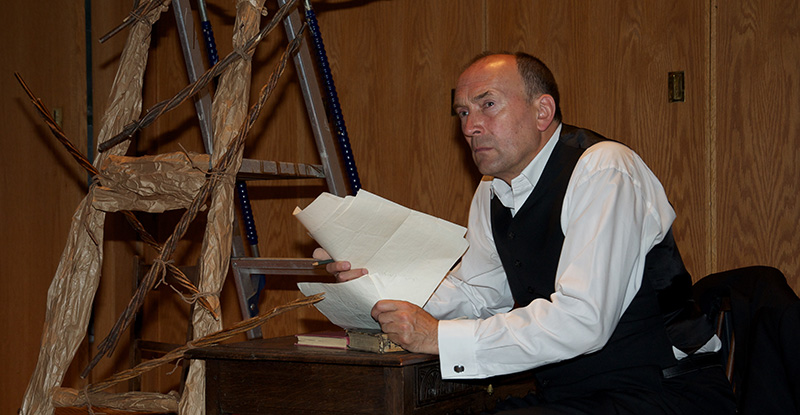 Acclaimed 'Mr. Darwin's Tree' Returns to CCCU Campuses
WASHINGTON – Mr. Darwin's Tree, the acclaimed British one-man play that explores the life and work of Charles Darwin within the context of science, faith, and family, is returning to the U.S. for another tour of nearly a dozen Christian colleges and universities across the country.
Produced by Scholarship & Christianity In Oxford (SCIO), the UK subsidiary of the Council for Christian Colleges & Universities (CCCU), and underwritten by the Templeton Religion Trust and The Blankemeyer Foundation, playwright Murray Watts and actor Andrew Harrison will appear in both performance and workshop to help students explore the life and work of Charles Darwin and his impact on science and religion.
"Discussing creation and evolution in abstract terms often leads to polarized and emotional debates," said Stan Rosenberg, SCIO's executive director and the CCCU's vice president for scholarship and research. "Seeing these issues in their historical context and connected to real people, by contrast, helps us to understand the complexity of the issues and to discuss them in more nuanced and less confrontational ways."
Mr. Darwin's Tree presents a very human and very real Charles Darwin, one who wrestled with the challenges that his theories posed for traditional beliefs. It also presents Darwin's wife, Emma, as an intelligent and articulate representative of Christian faith. In doing so, the play rejects the "straw man" effigies of Darwin presented by both his extreme protagonists and antagonists, providing the opportunity for lively engagement, thoughtful conversations, and fresh explorations.
This is not the first time the play has toured CCCU campuses. In fact, it has made four previous tours before as part of the Bridging the Two Cultures seminars, aimed at developing interdisciplinary skills in science and religion for selected faculty and for students and leaders at their home campuses. Performances and workshops of Mr. Darwin's Tree have fostered important discussions around science and religion for students, faculty, administrators, and community members of dozens of CCCU institutions.
"Mr. Darwin's Tree is an engaging story about a renowned historical figure. The first-person point of view allows us to see Darwin as a father, husband, and thoughtful scientist who wrestled with questions of theology as he observed creation through his studies. The play spurs conversation around important ideas," said CCCU president Shirley V. Hoogstra.
For a full list of scheduled campus performances, as well as more information about the play, visit www.mrdarwinstree.com.