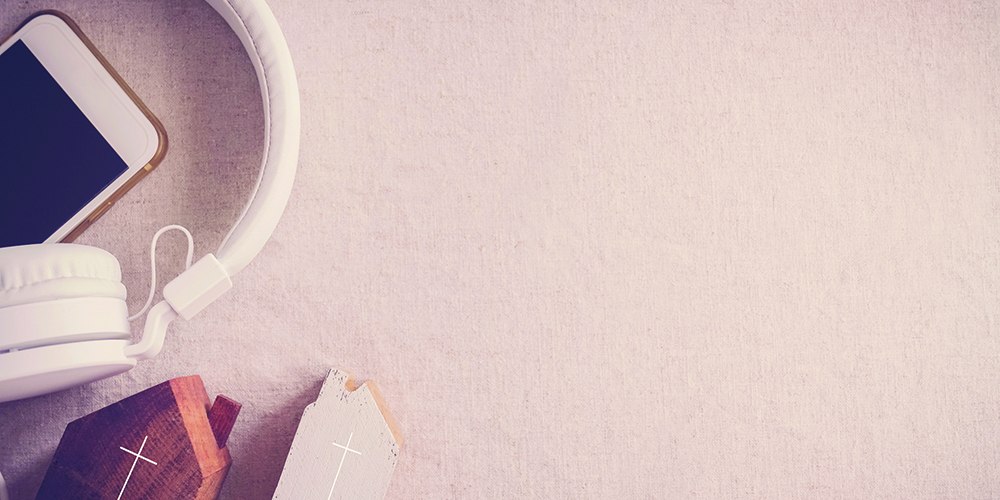 Spiritual Lessons Learned in Quarantine
Campus ministers have always provided mentorship and counseling for students and campus leaders in the midst of crisis. But the current crisis requires physical distancing that can make this ministry challenging. Five leaders share how they have responded and what spiritual practices they have found encouraging for their campus communities.
Spiritual Practices for Students — and For Us
By Linda J. Leon, Malone University
A pattern emerged as I talked with students during Spring 2020 stay-at-home orders. They were reeling with anxiety because they had been unexpectedly disconnected from people and places. Scrambling to make meaning out of this life shift, they longed for hope and direction. One student's text mournfully described her off-campus isolation: "How long will this last?"
In those strange times, my first impulse was to help students find connection. Although quarantine meant that people and places would be limited, spiritual practices could offer peace in the midst of unrest. And a key was to connect students to spiritual practices in a readily understandable way. The biblical ideas of peace and self-care seemed to be a common language that most — whether they were Christ-followers or not — could lean into.
As I walked students through spiritual practices, I noticed that they'd quickly identify one as a good fit. It was key for me to listen and understand their personal experience, reflect back what they were feeling, and then suggest practices that could provide them with peace.
In her formative book Spiritual Disciplines Handbook: Practices That Transform Us, Adele Ahlberg Calhoun explains that spiritual practices begin with a desire to grow closer to God or see him make change in our lives. This desire leads to trying spiritual practices which, when practiced regularly, become disciplines. Through these disciplines, the Holy Spirit transforms us, lovingly leading us through life change.
As we continue in uncertain times, it is vital for campus ministry staff to listen closely to students' fears and longings. We can help students put words to their desire for change. We can suggest the right spiritual practices that will meet students' heart longings. And we can introduce them to the God whose peace passes our understanding.
Spiritual practices for peace and self-care include:
Breath Prayer: Find a quiet space and relax your body. Focus on your breathing. As you breathe in, think the phrase, "Holy Spirit" (or another name for God), and as you breathe out, think the phrase, "Send me your peace" (or another comforting petition). Repeat as often as you breathe in and out for at least five minutes; change the phrases to suit your emotional and spiritual needs.
Unplugging: Unplug from your devices for a while. Start by turning them off for 30 minutes and then try for longer. The constant notifications and ongoing news cycle are impacting your stress level and ability to slow down! Give your mind and body a chance to relax.
Lament: Many of the 150 Psalms give voice to fear, sorrow, doubt, and anger. Psalm 13 expresses dismay in suffering but ends with words of trust in God. Try rewriting Psalm 13 with your own words of lament and trust in the Lord.
Gratitude: Being grateful can be hard in times of stress and uncertainty. Research shows that your sense of well-being improves by writing three things you're grateful for before sleeping and again upon awaking. Try keeping a gratitude list by looking for goodness or gifts that the Lord brings into your life.
Linda J. Leon is director of spiritual formation at Malone University in Canton, Ohio.
Learning from Our 'Compulsory Sabbath'
By Bernie Cueto, Palm Beach Atlantic University
We are living in unprecedented days. Social and physical distancing have become the norm, but spiritual distancing is not required; if anything, our proximity to our Savior must increase. In some ways, the pandemic might help us with this. As my good friend and evangelist Dr. Sam Chan said, "We are living under a compulsory sabbath." The commandment to keep the Sabbath used to be the only one I did not think twice about breaking. Yet now, more than ever, it is critical to our spiritual lives that we practice Sabbath.
When I asked God for more margin in 2020, I received much more than I was expecting. This much slowing down can bring about more anxiety because you have more time to think and worry. But Sabbath reminds God's people that they are not in control. This can be a fearful reality, but it is also a calling into a new and deeper level of trust in God.
For most of us, the Sabbath is theologically irrelevant, dreadfully impractical, and awkwardly counterintuitive. Yet the Gospels show us that Jesus regularly pulled away to rest. We, too, must pull away in order to not be pulled apart.
Imagine if, like the children of Israel who were gatherers in the wilderness, your life depended on your work. If the Sabbath is odd for us, it was worse for them. No refrigeration! No work meant maybe no eating. But Sabbath is God's way of telling us, "You need to trust me. Rest is a necessity; you need a weekly reminder to depend on me." Don't get me wrong: Working hard is important. Christians, especially those in the academy burdened with forming souls and minds, must have a robust work ethic. But trusting God is even more important.
There's a story of two foresters — a young man and an old one — competing to see who could cut more trees by the end of the day. The young man noticed that every 30 minutes, the older man would take a 10-minute break. At the end, the old man had cut down several more trees than his younger competitor. The young man said, "How is this possible? I didn't stop and you stopped several times." The older man replied, "You worked, grunting and groaning. I sat for two reasons. I sat to recover, and I sat to sharpen my axe. You were tired and working with dull equipment." You can be busy but dull and unproductive at the same time.
Bottom line: A rest-less person is restless person. In Matthew 11:28-29, Jesus challenges us to experience a soul rest that only he can give: "Come to me, all of you who are weary and carry heavy burdens, and I will give you rest. Take my yoke upon you. Let me teach you, because I am humble and gentle at heart, and you will find rest for your souls." (NLT)
I rediscovered the Sabbath just over two years ago, and it has been a glorious find. From Friday evening to Saturday evening, I turn off my devices and minimize the ways work can take my attention. I spend more time with God in prayer, reading, being outside, and simply slowing down. Everything becomes more special. Meals taste better; conversations take on more meaning; and even the occasional siesta feels great.
We are designed to rest. Take a day to declare your dependence on him. Lay it all before the Lord; whatever the pressure, whatever sins, whatever demands are outside of your control, take them and unload them. In this time of social distancing, you will find him closer than you expect. Go ahead, call a time out, and learn to rest in him.
Bernie Cueto is vice president for spiritual development, campus pastor, and associate professor at Palm Beach Atlantic University in West Palm Beach, Florida.
Ensuring Access to God's Word — Even When Home
By Gregory Lyon, Wisconsin Lutheran College
At Wisconsin Lutheran College, we believe that access to God's word is the means through which the Holy Spirit creates and sustains faith (Romans 10:17). Was there ever a time in our recent history that we have had more access to God's word than during the pandemic? Facebook, Twitter, and Instagram have been flooded with online church services, daily devotions, and posts of encouragement from the Bible.
What a blessing it was during the change in the spring semester to see how readily available God's word was for our students as they finished up their studies at home. But it left us as campus spiritual leaders with a question: What is our spiritual responsibility to our students when they are not on campus and when they are more readily connected with their own pastors at home?
At WLC, we offer seven various public worship opportunities per week — daily chapel, Wednesday Vespers, and Sunday morning worship. We also offer a regular array of Bible studies and individual spiritual counseling. This is all part of our goal to support our students when they are on campus; when students are home, it has not been our goal to replace students' pastors and spiritual leaders. Thus, we have been in a position of assessing our role to our students while they are home in a way that we have not done recently.
For the spring, we chose to continue offering online chapel. We recorded daily devotions that were about five minutes each and emailed  them out to our students, faculty, and staff every day. We offered a weekly Zoom Bible study and continued to provide individual spiritual counseling through Zoom. On top of that, our campus ministry office spearheaded a makeshift food pantry for the few students who needed to stay on campus, as well as regular mass texts to check in with everyone.
Moving ahead, we are still in the process of figuring out what our role will specifically be for the coming year. Will we be able to offer public worship options? Will we need to simply livestream or record a chapel devotion? In short: Will we be meeting in person or online? As of this writing in mid-summer, we don't know.
But here is what we do know: God's word is not chained and it will not be chained on this campus. We recognize that students' time on campus is not just about academics, sports, or social life. Our blessed responsibility is to make sure that our students have access to God's word and the spiritual growth opportunities that they need. We will ensure that the spiritual growth of our students remains a primary piece of what makes us different from so many other institutions of higher education.
I'll close with this thought and encouragement for others: Has there ever been a time when the peace that Christ offers us ought to be more accessible to our students? The work that we do as spiritual leaders is vital. Keep thinking, keep conversing, and keep dreaming of different options to make sure that our students know that no matter what the chaos of this world brings, Jesus Christ wins — and he wins for us. Let's not let that truth get lost in the shuffle of figuring out what our schools will look like in the future. "For I resolved to know nothing while I was with you except Jesus Christ and him crucified" (1 Corinthians 2:2, NIV). May that be our rallying cry for the benefit of our students.
Gregory Lyon is campus pastor for Wisconsin Lutheran College in Milwaukee, Wisconsin.
Heeding the Sacred Call to Rest
By Laurel Bunker, Bethel University (MN)
In the winter of 2018, after a busy fall, I began to experience severe pain in my lower back. As I had always been healthy and had never wrestled with any major injuries or hospitalizations, I was unfamiliar with the throbbing pain that coursed through my hips, down through my gluteus, and into my legs and feet. "I must have twisted something," I said, pushing past the worsening pain. My decision to ignore these warning signs was a mistake that cost me precious time and health and would later accompany a throbbing sense of regret. Six weeks of lying flat on my back, a round of numbing medications, and a year of chiropractic work was the price I paid for disregarding this excruciating pain, caused by sciatica.
While I do not wish that kind of pain on anyone, I am grateful for the lessons I learned because of it. During my time of forced rest, God reminded me that our bodies, souls, and spirits need down time in order to heal, grow, and flourish. To ignore rest by driving oneself relentlessly is to rob ourselves of intimacy, reflection, rejuvenation, and peace with God and others. We were created to be in fellowship with our Creator and to walk in unity and peace with one another (John 17). Jesus calls us to come to him with our heavy burdens so that we can receive rest for our souls (Matthew 11:28-29). Without time to be restored in God's presence, we risk stunting our personal and spiritual growth and instead become impaled on the barbs of our culture's endless demands.
In his book, Disruptive Witness: Speaking Truth in A Distracted Age, Alan Noble suggests that no matter where we work or serve, we as believers can adapt to a better way of being by observing the sacred rhythms of rest and reflection: "A practical, achievable step we can take toward reclaiming our attention and creating some space for reflection is to cut down on filler distractions. Make dinner without listening to a podcast. Use the bathroom without bringing your phone. … Open yourself up to the possibility of undirected thought."
In a distracted, harried and hurried culture, the spiritual practice of rest reminds us that what is most important is not the approval of humankind, but rather intimacy with God, who created us to be in relationship with him. Rest can strengthen our witness. By resting when we ought, we show our trust in God, in his design, and in his timing, and we resist the fear of missing out because God, the author of time and the giver of all that is good and perfect, provides us what we need when we need it.
The challenges and heartbreaking losses that have come as a result of this season have coaxed many of us into a new normal. This new normal requires more intimacy and less hustle; more rest and less unrelenting drive; more joy and less distraction and frivolity. It is hard to welcome disruption, but one potential benefit of this pandemic is the reminder that, if we want to be good stewards, we must inhabit new ways of being, even after the pandemic has passed.
The recalibration of our priorities to align with God's priorities is worth the effort, energy, and discipline that it requires. When we choose to enter into the quiet, we come out of our time with God with increased clarity, vision, and wisdom. We can enter into our professional lives from a place of refreshment, not depletion or exhaustion.
As we enter into a new normal, may a part of that new normal include a renewed effort to incorporate rest so that we may be people of impact for Christ and his kingdom. Amen.
Laurel Bunker is associate vice president of Christian formation and church relations at Bethel University in St. Paul, Minnesota.
Lament and Blessing in a Time of Pandemic
By Guy Chmieleski, Friends University 
During one of our first virtual chapels of this pandemic season, two of my colleagues, Haley and Luke, introduced three simple but powerful questions to our campus community at Friends University: 1) What has the pandemic taken from us? 2) What has it not taken from us? 3) What has God given to us during this season?
With these questions, we are able to lament what has been lost, acknowledge our new reality, and recognize blessings and new opportunities. These questions, when given space to permeate our minds, hearts, and souls, may be used by God to provide us with a healthy and helpful framework for persisting through this.
What has the pandemic taken from us?
What an incredible season of disruption, disorientation, and loss. Globally, we have lost lives, jobs, and a collective sense of normalcy. At the campus and individual level, we lost a spring (and possibly more) on campus, which meant the loss of things like face-to-face time with friends and faculty; spring sport seasons and fine arts performances; and a great many "lasts" for our graduating seniors, including their spring graduation ceremony.
As these losses began to pile up, they also followed us home; even in the best of scenarios, there was still change and loss to mourn. Though my kids initially celebrated being able to sleep in, they quickly felt the forfeiture of close connections with friends. They also missed out on the spring sport season.
It's necessary to lament in the midst of our pain and confusion. The Bible is riddled with examples of lament; they serve as reminders, even permission, to express our grievances and pain to God.
What has it not taken from us?
Every family has experienced this pandemic in different ways, but there are still pieces of a pre-COVID-19 way of life that remain. Can we see through the pain of loss enough to notice these important items? Identifying what we have not lost, I believe, is just as important for us as recognizing what has been lost.
For me, it was important to understand and acknowledge that much of my loss came in the form of inconveniences. I still have my family. I still have my job. I still have my home. I still have my health. I recognize my losses were minor, not major.
I know this is not everyone's story. But it's my story (at least as of this writing in mid-summer), and that is something tangible I can hold on to.
What has God given to us during this season?
While much less obvious in the midst of our current disorientation, I believe God is providing each of us with blessings of some shape or form. God is aware of our situation — and hurts with us. Yet in the midst of the pain, I believe there are hidden blessings, if only we have eyes to see them.
For example, this time of disruption has given me an abnormally large amount of time with my family. Time with all seven of us in the same place had become a rarity outside of family vacations. Additionally, the open time in my calendar provided space that has sparked some creativity and innovation within that likely would not have found place amidst the rhythms and routines that had previously been shaping my life.
As we consider these three questions, we see that there are layers and layers to uncover. But I believe that as we provide the time and the space for the Holy Spirit to work in us through reflecting on these questions, we will have new eyes to see, even as we continue serving.
Guy Chmieleski is vice president of student affairs and dean of campus ministries at Friends University in Wichita, Kansas.