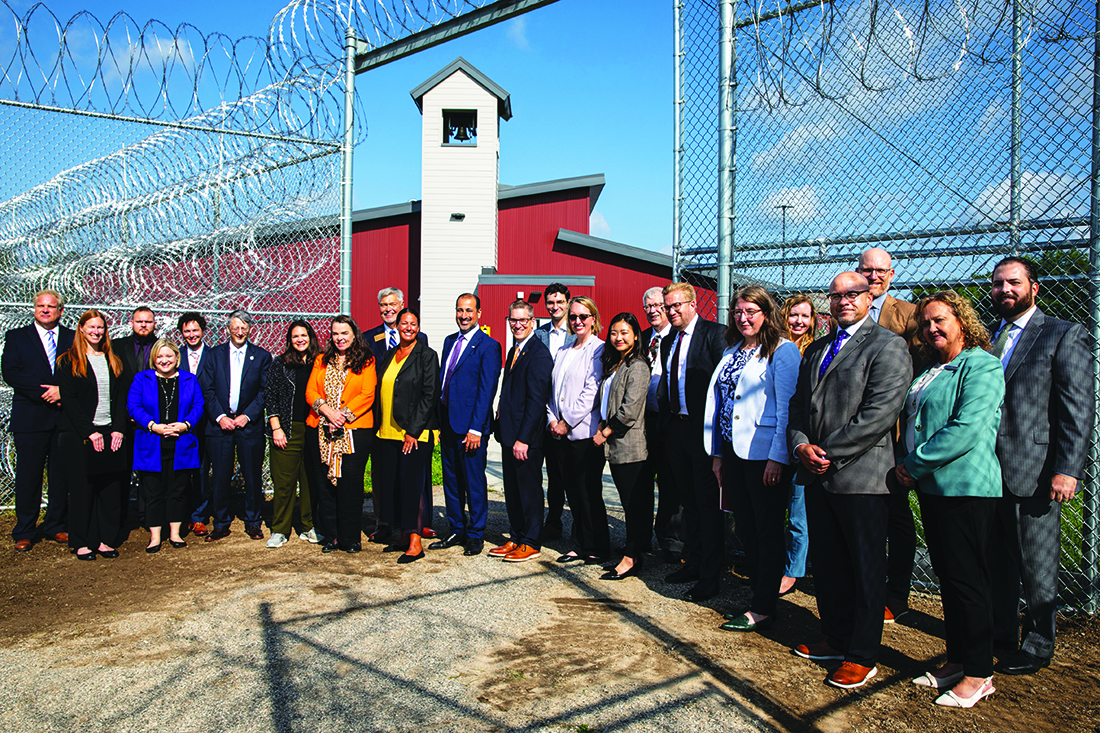 First-Rate Education with Second Chance Pell
"If I had learned to love learning before, I would be on the other side of this tour today," stated a 17-year inmate at the Richard A. Handlon Correctional Facility in Ionia, Michigan. He held out a compilation of essays — with his name displayed proudly on the front — that other inmates used for studying. "When I figured out how to love learning, I figured out how to love life."
Another inmate serving a life sentence quoted Aristotle. Through tears, he described a love for education and the value it brings to his family. His dedication inspired his daughters to commit to higher education, and they now envision their own futures as college graduates.
These two stories are a glimpse of all the powerful stories the students and graduates of the Calvin Prison Initiative (CPI) shared with members of the Department of Education, including Under Secretary James Kvaal, during their visit to the program on August 30. They made the visit because they were interested in the impact of the Second Chance Pell grants, especially with the reinstatement of Pell eligibility for incarcerated individuals beginning July 2023.
"We expect to see new colleges and universities across the country creating new programs to serve incarcerated students, so we want to be in a position where we are visiting, we're listening, and we're connecting people so that we make the most out of these new investments and opportunities for students everywhere," said Kvaal. He added that the Second Chance Pell program has "strong bipartisan support, and we're really excited to open it up to every college and university that is interested."
Accompanying Kvaal's team were representatives from the Michigan Department of Corrections, Calvin University, Calvin Theological Seminary, and members of the state legislature and the CCCU. The day included a tour of the classrooms, facilities, and vocational village, as well as a 90-minute roundtable discussion with CPI graduates. Kvaal noted this was his first visit to a prison, and he called it a "special opportunity" after conducting listening sessions with incarcerated students and those who maintain the programs.
Reverence for education was in the air during the entire tour. Each inmate, whether quoting classic literature, building a baby crib, or training therapy puppies, took his calling seriously while mastering new skills. Afterward, Kvaal reflected on the uniqueness of the CPI program. "[CPI has] a strong sense of mission and it really has touched people's lives — changed their lives — and I think that is an incredible opportunity for these students."
The Calvin Prison Initiative project provides inmates an opportunity to earn a bachelor's degree in faith and community leadership. Incarcerated students in the five-year program take the same classes as traditional Calvin students, like "Fundamental Questions of Philosophy" or "Oral Rhetoric."
Kvaal stated that permanent Pell funding was necessary for programs like the CPI because it provides stability and will reduce skepticism by providing financial support to show longevity and commitment to the community. Research from the RAND Corporation shows how much of a difference these kinds of education programs can make in reducing recidivism and lowering incarceration costs. Inmates participating in educational programs are 43% less likely to recidivate when they are released, and every dollar invested in prison education reduces incarceration costs.
Calvin's program is one of 21 prison education programs currently in the CCCU that provide hundreds of incarcerated students the opportunity to engage in quality Christian liberal arts education that encourages development of both education and faith in ways that transform lives.
"We believe God is redeeming even the darkest places of society," the CPI website notes. "There is no corner of creation that cannot be touched by the power of the gospel. By attempting to transform prison culture, we hope to not only restore peace and shalom within prisons, but also within our local neighborhoods and communities."
Amanda Staggenborg is the CCCU's chief communications officer. She holds an Ed.D. from Missouri Baptist University, and her master's and bachelor's from Webster University in Missouri.