Overview
The CCCU Networking Grants are made possible by the continued, long-term commitment and generous endowment of Walter and Darlene Hansen, in memory of his parents, Ken and Jean Hansen. Their series of gifts to advance faculty development in the 1990s included inaugural funding for this project leading to the creation of an endowment in 1999, together with the originating vision. In 2020, the Christian Community Credit Union committed a generous gift that has enabled the program to enlarge the amount of the initiative grant.
See the report covering the past five years of grant recipients here.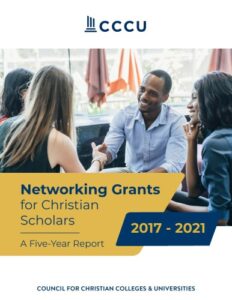 Networking Grants for Christian Scholars seek to encourage collaborative scholarship among faculty members serving at CCCU member institutions and to connect these scholars with broader networks. The goal of the program is to support high quality scholarship that brings Christian voices into contemporary academic conversations.
Thus, Networking Grants may support any research project that is both:
significantly informed by Christian practices, perspectives, or purposes; and,
demonstrates the potential for dissemination and influence in the larger academy.
Because the purpose of the Networking Grants is to facilitate Christian scholarly collaboration with an end toward impacting the broader academic community, projects that are targeted primarily to Christian audiences are less likely to receive funding.
Team members:  Networking grant teams are made up of a project director and team members. As part of our commitment to helping campuses recover from the impact of COVID-19, we are expanding the project director role to be open to full-time faculty members at governing member or collaborative partner institutions. Faculty members from associate member and international affiliate institutions may participate as team members. Team members must include faculty from at least one other CCCU institution, and may include faculty from non-CCCU schools. Project directors are encouraged to assemble a team from a variety of institutions.
Application Deadline for Networking Grants is June 9, 2023

Applicants may choose from two options: Planning Grants and Initiative Grants.
Planning Grants (up to $5000 for one-year)
Focus: networking teams wishing to plan research projects.
Due: June 9, 2023
Anticipated awards: up to two one-year Planning Grants
Successful Planning Grants may later result in a proposed Initiative Grant or in a request for funding from another source.
____________________________________________________________________________________________________
Initiative Grants (up to $30,000 over three years)
Focus: implementation of research projects
Due: June 9, 2023
Anticipated awards: up to two three-year Initiative Grants
Awards for 2023 Planning and Initiative Grants will be announced in July 2023.
Contact:
For questions or more information, please contact Jeff Clawson.
Planning Grant: Requests for Proposals
Initiative Grant: Requests for Proposals
Application and Reference Submission Forms
Selection Committee
Kaye Cook
Professor of Psychology, Chair, Department of Psychology, and Director for the Center for Evangelicalism and Culture
Gordon College
Wenham, MA
Gwen Ladd Hackler
Director, Academic Grants Office
Professor of English
Southern Nazarene University
Bethany, OK
Russell Howell
Kathleen Smith Chair of Natural and Behavioral Sciences
Westmont College
Santa Barbara, CA
Todd Ream
Professor of Higher Education
Taylor University
Upland, IN
Stan Rosenberg
Vice President for Research and Scholarship
CCCU
Washington, DC
Erin Smith
Professor of Psychology; Fletcher Jones Endowed Professor of Research; Director of Research, Center for the Study of Human Behavior
California Baptist University
Riverside, CA
Raymond VanArragon
Associate Professor of Philosophy
Bethel University
St. Paul, MN
If you have questions, please contact Jeff Clawson.
Past Grant Recipients