President Shirley Hoogstra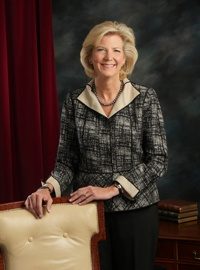 A visionary leader who is passionate about Christian higher education and the role it plays in the common good, Shirley V. Hoogstra became the seventh president of the Council for Christian Colleges & Universities in September 2014.
Having received a bachelor's in education at Calvin College (Grand Rapids, MI) and a Juris Doctor, with honors, from the University of Connecticut School of Law, Hoogstra spent more than a decade practicing law as a partner at a firm that specialized in litigation in New Haven, Connecticut. While at this practice, she served on the New Haven County Bar Association, as well as on a number of civic boards and at local schools and churches. She was also a founding board member and officer of the Bridgeport Rescue Mission.
It was at this time she began a season of service at her alma mater, Calvin College. She first served as a co-chair of Calvin's first endowment drive, "Campaign for Calvin," and was subsequently selected to serve on the university's Board of Trustees from 1995-99. In a move that was as surprising to her as it was to others, Hoogstra sensed God's call to leave her successful law practice and work for the cause of Christian higher education full time. She became Calvin's vice president for student life in July 1999, a role she served in until she became president of the CCCU.
During her time at Calvin, Hoogstra served as a key campus leader and cabinet member. She was also the co-host of Inner Compass, a nationally televised show on PBS. A leader who engages with culture, Hoogstra interviewed more than 150 people for Inner Compass, including historians, philosophers, diplomats, culture shapers, diversity leaders, authors, leaders in the academy, artists, public intellectuals and religious leaders.
Now in her role as president of the CCCU, Hoogstra combines her zeal for the rule of law and her passion for Christian higher education as she represents the institutions of the CCCU. The CCCU's outward-facing work at its intersection with government in Washington, D.C. calls upon Hoogstra's authentic skills of listening, respecting and influencing leaders as she shares and promotes the importance of Christian colleges and universities as a part of a diverse, pluralistic system of higher education. In an era that has seen the rise in the value of individualism and a decrease in the value of formative communities, Hoogstra delights in highlighting the value and purpose of high quality, Christ-centered liberal arts education that shapes the heart, soul and mind.
Always an educator, Hoogstra has never lost her joy of seeing people developed to be their best selves. This is why the Council's professional development conferences for CCCU campus administrators, its promotion and encouragement of scholarship and teaching among CCCU faculty, and its innovative and immersive BestSemester student programs remain at the core of the CCCU's work.
Included in that work is a focus on expanding diversity and inclusion at CCCU campuses. The future of Christian higher education requires profound adaptability and a commitment to making education available, accessible and affordable to all students; under Hoogstra's leadership, the CCCU and its members are working to ensure that both students and faculty of color will be hosts, not guests, at their campuses.
Hoogstra and her husband, Jeff, who practices pediatric medicine, are the parents of two married children: Dave (Amy) and Mary (Adam).